We Don't Eat Our Classmates by Ryan T. Higgins (out now)
Review by Lauren
Source: copy from publisher; all opinions are my own
Official Summary (add on Goodreads): It's the first day of school for Penelope Rex, and she can't wait to meet her classmates. But it's hard to make human friends when they're so darn delicious! That is, until Penelope gets a taste of her own medicine and finds she may not be at the top of the food chain after all. . . .
Review: This book is so cute- and quite humorous! You see, Penelope is a T-Rex and she's about to go to school for the first time…except she didn't realize all her classmates were children! Children are delicious…and Penelope can't help but eat them! Don't worry, the children are fine, but it does make them quite scared of Penelope and it leaves her feeling very lonely at school.
I love that Higgins put a note in the beginning of the book that a T-Rex is extinct, so children don't have to worry about being eaten by a dinosaur – just in case your kid has these worries! This is a really fun picture book about starting a new school (or going to school for the first time) and trying to fit in and make friends. I also really loved that Higgin's illustrations of the children were so diverse! Your kid is sure to find someone in the classroom who looks similar to them.
Picture Book Reviews: We Don't Eat Our Classmates and Piggy: Let's Be Friends #ontheblog #bookbloggers
Click To Tweet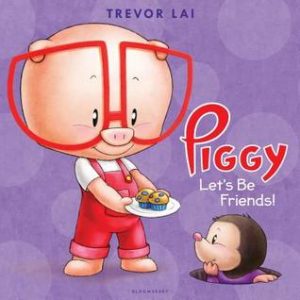 Piggy: Let's Be Friends by Trevor Lai (out now)
Review by Lauren
Source: copy from publisher; all opinions are my own
Official Summary (add on Goodreads): Piggy loves reading books, having tea parties, and most of all, making new friends! One day he sees a little mole across his garden. Before Piggy can get to know him, the mole hides underground.
Miles loves reading books and baking cakes, and he would love to have a friend! But the world above makes him so nervous . . . Can Piggy find a way to help Miles out of his shell?
Review: This is a really sweet book about being nervous, but trying to get out of your shell anyway. It's also about making friends – even if you already have a lot of friends! Piggy used to be alone but now he's friends with everyone in the forest – except for Miles, the mole, who lives underground and sneezes when he's nervous (which is most of the time if he goes above ground). I thought it was cute that both Piggy and Miles thought about each other and how they could become friends. The illustrations are bright and fun – they almost have a cartoon quality to them. I will say that the "message" of the book seems a bit heavy-handed, but since it's for young kids, I'd still say many would enjoy it!