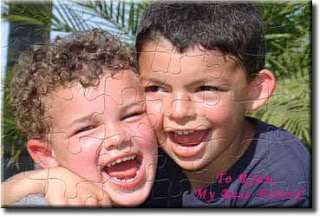 Do Not Own. From The Site.
Piczzle Review + Giveaway
By: Lauren
Site: http://www.piczzle.com/index.php
I was sent a puzzle to review, but all other opinions are mine.
Review: I was sent a 24 piece cardboard puzzle to review. This thing is amazing! I used a picture of one of my friends and me. It's a bit of a silly photo, but we enjoy it and it holds some good memories…as well as an inside joke we've had for awhile. The box that the puzzle comes in is great. Just like one you would buy in the store, you see your photo all put together on the cover. They even have smaller versions of your picture on two sides of the box. It looks so professional!
Once you open it up, you have a small bag that zips holding all of your pieces. It's so fun to open it up and see part of your face or shirt in a puzzle piece. How fun!! I didn't make the whole puzzle, but I put a couple of the pieces together and it's so much fun. I love it. All the pieces are sturdy and you know they won't break or rip easily, and I really like that you can put all of them in a bag so they don't get lost in the shuffle of the box.
This is going to the friend in the picture as she is a really big puzzle lover, and as far as I know, she doesn't know personal puzzles exist. I didn't until I found this site and I'm glad I did! I think I'm going to get one of these for my younger cousin. He would probably get a kick out of having his picture be the puzzle and I know his parents would adore the idea. It would make a great gift for the holidays…and this is part of the Holiday Event…but for any other fun occasion as well!
The above photo is the one that I used for this puzzle. I told you it was silly! But the picture is perfect on the box and as the puzzle. I couldn't ask for a better present!
I should mention though that you need a certain quality and pixel count for bigger puzzles (the ones with more pieces as it goes up 2,000 pieces I believe). I was originally going to review a larger puzzle but I couldn't find a photo that was suitable, so we went down to a 24 piece. Not that I'm complaining! I love the puzzle and I think the thought is worth it. I know my friend loves to make her puzzles, tape the backs, and hang them up…so I'm thinking she might do that with this and then she only has to make it once. This is just to mention so you have it mind if you decide to order…or if you win!!
Giveaway
To Enter: Visit the site and let me know what type of puzzle you would like.
Open To: International!
Prize: 100 pc. Medium Cardboard Puzzle
Ends: October 31st
+2 if you follow this blog (leave two seperate comments)
Gift Code:"ShootingStarsMag35", 35% off the puzzles list price which is 5% on top of the current sale price (open to first 20 buyers…expires Nov. 30). International Code.