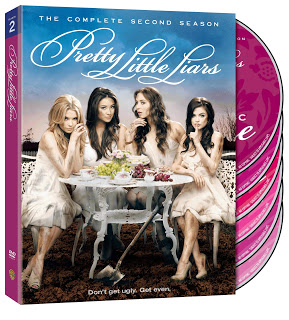 The Second Season of Pretty Little Liars will be released on DVD June 5, 2012…so not too long now. However, for those of you who are current fans, you can now enter to win a fun prize pack of gifts!
Can you 'Find the Pretty Little Lies?'
This "online promotion will entail video clips from the second season. The challenge will be to guess who said specific lines or to find hidden characters from within the season."
Even if you aren't a current fan, you can pass this along to anyone you know who is, and perhaps they will gift you one of their "prizes" in thanks, depending on what they win! 🙂
What Can You Win?
If you enter, you have a chance to win Heather Belle Bags, Accessories and DVDs Signed By The Cast!!
Pretty awesome, huh? You know you want to check this out. I'd try entering even if you haven't watched the show much, because you just never know, and it sounds like a ton of fun.
Links
"Find The Pretty Little Lies" Online Promotion
Pretty Little Liars: The Complete Season on DVD
I have been hired by Warner Bros WBWord division to raise awareness for Pretty Little Liars.