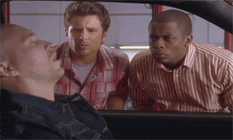 I've noticed a lot of new anthologies being released these days, which is awesome, but especially when they deal with a certain topic (think the Twilight anthologies, the ones about movies and shows, etc.) As a huge fan of Psych, I think someone should work on something for the show. Honestly, if you know the show, there is probably a ton of topics you could discuss…some serious, some funny…who knows what?
I know a few authors that love the show, so come on girls (as you've all been girls thus far…) you should start this project! If I was a published author, I would SO pitch this idea somehow, or simply try and start it and see what happens!! lol
I would love to read what others have to say about Psych, and I'd of course love to write about Psych myself, but just me alone? Now, that's no fun! So anthology I say!! ANTHOLOGY! :0)
What do you think, fans of Psych? Would you read it?