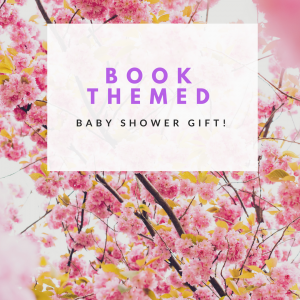 A couple weeks ago, I had a baby shower for a friend of mine and while I will be talking about that soon (hopefully next week!), today, I wanted to share an Etsy shop that I came across in my search for things to do for my friend's shower. I decided on a book theme because books are awesome and my friend has always liked to read. Her sister also informed me that her favorite children's book is Love You Forever by Robert Munsch. In honor of that, I tried to find ways that I could incorporate that book into the shower. There were a few things online that I would have loved to have gotten for the mom-to-be if I'd had more time/funds, but I still wanted to share one of those items here in case you have a mom to celebrate soon!
The Perfect Baby Shower Gift: A Reading Pillow for Mom and Baby! #babyshower #ontheblog
Click To Tweet
Mary Miller owns the Etsy shop Bay Lake Embroidery, based out of Florida, and she sells a variety of wonderful items for baby and mom from blankets to decorative pillows to tote bags.
While searching Etsy for my friend, I came across Mary's wonderful reading pillows. These pillows have a pocket in the front where you can store a book. And yes, there is a Love You Forever pillow! How awesome would this be as a gift for the mom to be? Just add the book and it's something she can share with her little one for years to come!
You can choose from pink or blue and each pillow is $35. Like I said before, I wasn't able to get one of these pillows before the shower, but it's still something to keep in mind for when the baby finally arrives!
What do you think? Have you ever heard of a reading pillow?