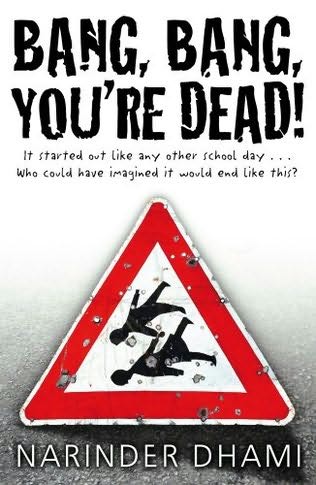 Bang Bang You're Dead by Narinder Dhami
Mia and her twin brother have had a hard life growing up. Their sick mom only got better when their grandfather showed up and made her, but when he passes away, it gets bad again. Mia is meek and silent, trying to appease everyone without really doing anything. Jamie, on the other hand, is growing more and more angry and wants his mom to sit up and take notice. He's mad that Mia doesn't understand and wants to show her that she can't always rely on him…after all, what if one day he isn't there anymore?
That's why when news hits that a gunman is in the school, Mia doesn't leave like the rest of her class. She starts to wondering: is that what Jamie was planning? Is this his way to show their mom that she needs to get better?
I love to read books that deal with school shootings because they are all different in how they approach the topic. This is the main reason why I wanted to read Bang Bang You're Dead. The book is told in a back and forth pattern for most of the novel, with the present chapters showing Mia going through the school looking for the shooter who may or may not be her brother, Jamie. As for the other chapters, they are Mia's recollections of times that Jamie showed his anger and destructive behavior…which, all added up, give a lot of support to the idea that it really might be Jamie with the gun.
I really enjoyed the chapters that showed the past because it allowed us a look into the things we weren't privy too when first starting the book. It gives us all an idea of who Mia and Jamie are and why they would want to cause a scene. It all basically leads to their mother, who is mentally ill but won't get the help she needs. Instead she sways between depressing can't-get-out-of-bed days and manic let's-shop-for-things-we-can't-afford days.
This is a really fast book and I definitely enjoyed reading it. I should warn that some of the present chapters get a bit tedious as you really just want Mia to figure out who the shooter is and what's happening or will happen after this. Once the moment arrives though it's all worth it. Believe me, this is one book that is sure to be a hit with a lot of people because it's not easy to figure out. You think you know what's going on, but in the end, do you really understand?