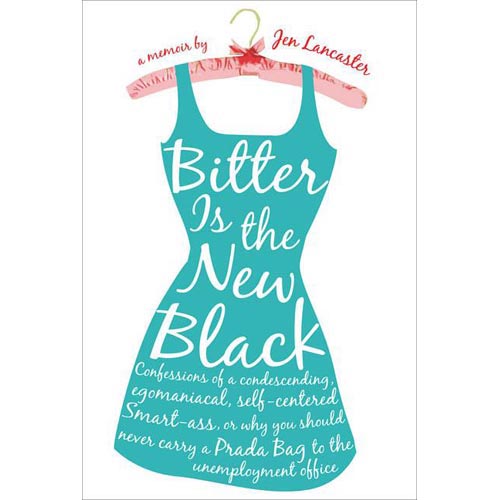 Bitter is the New Black by Jen Lancaster

Visit the author's hilarious blog

Review by Lauren

bought my copy; all opinions are my own. I'm an affiliate with The Book Depository, so purchase through there if you wish!

Official Summary: Jen Lancaster was living the sweet life-until real life kicked her to the curb.
She had the perfect man, the perfect job-hell, she had the perfect life-and there was no reason to think it wouldn't last. Or maybe there was, but Jen Lancaster was too busy being manicured, pedicured, highlighted, and generally adored to notice.
This is the smart-mouthed, soul-searching story of a woman trying to figure out what happens next when she's gone from six figures to unemployment checks and she stops to reconsider some of the less-than-rosy attitudes and values she thought she'd never have to answer for when times were good.
Review: I've known about Jen Lancaster for awhile now, and I even own two of her books (including this one) but when you review things, it's often difficult to find time to read the things you buy yourself. These days, though, I've decided it's important to mix up what I read and review – for my own sake and to hopefully make my blog a bit more interesting. Therefore, I grabbed Jen's first memoir, Bitter is the New Black: Confessions of a condescending, egomaniacal, self-centered smart-ass, or why you should never carry a Prada bag to the unemployment office. Wow, that's one long title!
However, based on the aforementioned title, I think it's clear that this is one amusing memoir! While Jen is certainly someone who lived the high life and took that for granted, she does get knocked down quite a few pegs throughout Bitter is the New Black. Experiencing money troubles, depression in her husband, two charity dogs she just couldn't give up, her inability to find a job (on any level!!), and yes, even more, certainly changes Jen. Does she become Mother Theresa? No. But that's asking a bit much of anyone, isn't it? And besides, humor really can be the best medicine and it seems to be Jen's saving grace in the end.
I loved how atypical Jen was, even when it meant her proposing to her boyfriend in order to receive money from friends and family. She's not always doing what you might think is right, but regardless, she does have a heart. She loves her boyfriend- turned husband – Fletch a lot and will do almost anything to take care of him when things begin to go down hill in his career as well. Fletch is a welcome addition to Jen's life when reading this memoir too because he's the calm to Jen's manic, the reasonable to Jen's crazy, and in the end, it shows that sometimes opposites really do attract.
Basically, I really enjoyed this one. I wouldn't say I laughed out loud the entire time…but that's also because this is a memoir of hardships. It's mixed with some great humor and crazy scenarios, but it's still about being knocked down and getting right back up. It's also about chasing your dreams, and who wouldn't root for that? I'll definitely be reading more by Jen (including her novel!) in the future.
Make it a Gift
As should be obvious by now, Jen is one sarcastic lady! Therefore, if you're going to gift Bitter is the New Black (or any of Jen's other memoirs) you should think about adding this Sarcastic Ball. As it says, "Ask a simple question, get a sarcastic answer." I think Jen would approve!
Site Description: Some of us need a little abuse now and then. If no one is around to dish it out, the Sarcastic Ball will do nicely. Lines like, "ask me if I care" and "yeah right" will taunt you. The Sarcastic Ball has 20 different messages to keep you in stitches. Just ask it a question, turn it over and read its answer in the little blue window.
Buy it from Office Playground for $7.99