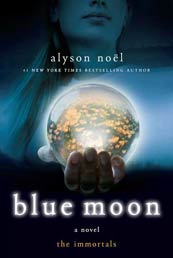 Title: Blue Moon (The Immortals book 2)
Author: Alyson Noël
Publisher: St. Martin's Griffin
Pub. Date: July 7, 2009
Age Group: YA
Pages: 304
Review by: Alicia
Summary:
Eager to learn everything she can about her new abilities as an Immortal, Ever turns to her beloved Damen to show her the way. But just as her powers are increasing, Damen's are waning.
In an attempt to save him, Ever travels to the magical dimension of Summerland, where she learns the secrets of Damen's tortured past; a past which he has always kept hidden from her. But in her quest to cure Damen, Ever discovers an ancient text that details the workings of time. Now Ever must choose between turning back the past and saving her family from the accident that claimed their lives—or staying in the present and saving Damen, who grows sicker every day…
Review:
There are two things I need to get out of the way—first, DON'T READ THIS UNLESS YOU HAVE READ EVERMORE, and second, HOLY CRAP. Alright, onto the review!
I need to say that from all of the summaries I've read for this book, none of them do the book justice. To me, the summaries were way off from what was in the book. Was it like that for anyone else? I would have summarized it myself, but I suck at summaries. I always leave out information or practically say everything that happens in the book. That's why I just use the book jacket or internet sites for summaries.
This book had sooooo many plot twists and turns—it was like riding a rollercoaster! (Did that sound cheesy to you?) Every time I thought I figured something out, I would be wrong. There were only two things out of the entire book that I did see coming. I honestly did not expect anything that was in the book. Like Damen's sickness? Totally not what I imagined it would be. I'd explain, but I don't want to spoil anyone who hasn't read. Really, if you think you know what will happen, chances are you will be way off.
I was a bit weary of the three new characters. The twins were fine—even though they confused me sometimes. I actually enjoyed the way they spoke and acted. The other new character, Ramon, rubbed me the wrong way. I didn't like him at all—even when he was first introduced. Something seemed off on him, and for once I was right. And I'll leave it at that.
I liked learning about Damen's history and some of Ever's past lives. I love history (World, not U.S.), and so all the historical things there were awesome. Plus I love Damen, so I want to know everything about him.
Oh, and if you think there is as much romance in this one as there was in Evermore you'd be wrong. But it doesn't matter because there were many other great aspects in it.
I also got really into the book—I felt like I was in it, which is probably why I read it in a few hours. I would get so into BLUE MOON that I would scream at it. Seriously. My family looked at me like I was nuts. When I finished the book, I almost cried. Not because someone died, but from the hopelessness of the situation and the fact that the next one doesn't come out until next year.
I love, love, loved this book. I apologize for going a bit fangirl on you. I don't know how I'm going to make it until the next one comes out.
The first book, Evermore, is already out. Shadowland, the third book, comes out on January 5, 2010!
Cover comments: I really love this cover! It is sooo pretty! And I think it goes well with the story.
Overall: 5/5