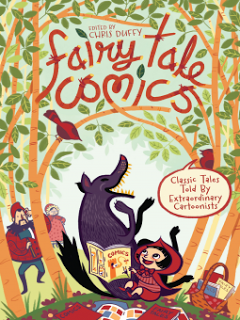 Fairy Tale Comics: Classic Tales Told By Extraordinary Cartoonists (edited by Chris Duffy)

Review by Lauren

Buy a Copy via The Book Depository (I'm an affiliate)

copy sent for review, but all opinions are my own

Official Summary: From favorites like "Puss in Boots" and "Goldilocks" to obscure gems like "The Boy Who Drew Cats," Fairy Tale Comics has something to offer every reader. Seventeen fairy tales are wonderfully adapted and illustrated in comics format by seventeen different cartoonists, including Raina Telgemeier, Brett Helquist, Cherise Harper, and more.
Review: This collection of fairy tales is the perfect gift for any fan of the original tales. Instead of merely hearing the story, you get wonderful illustrations in a variety of styles to add enjoyment. I could see families reading these aloud or older readers perusing them on their own. No story is particularly long so it's perfect to grab and read when you only have a few moments of free time (or to use as a fun bedtime story for the younger crowd).
As each story is told in the comic format, it reads quickly and keeps your attention. Every story is written and/or illustrated by a different artist so you're always getting something new. Some drawings are more cartoonish, while others are detailed such as the story Rumpelstiltskin by Brett Helquist.
One of the most unique stories in the bunch is probably Goldilocks and the Three Bears by Graham Annable as there are no words. Instead, the illustrations give you plenty of details to understand this classic tale. Obviously, this is one that would be harder to read as a bedtime story (unless you added in the words yourself) but it's a nice addition to the book.
I also loved that each story includes where the original came from. Most of the stories included are, of course, from the Brothers Grimm but they did try and mix things up and I found many stories I wasn't aware of before. Examples of the latter were The Small Tooth Dog by Charise Mericle Harper that came from the English tale as told by Sidney Oldall Addy and Rabbit Will Not Help by Joseph Lambert that came from the Bre'r Rabbit tale as told by Dora Lee Newman.
Definitely an enjoyable collection! It includes plenty of tales to excite any fairy tale fan!