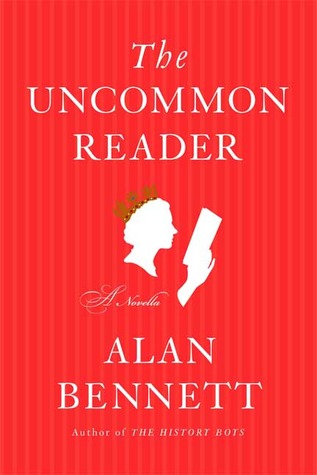 The Uncommon Reader: a novella by Alan Bennett

Review by Lauren



copy from library, but all opinions are my own
Official Summary: When her corgis stray into a mobile library parked near Buckingham Palace, the
Queen feels duty-bound to borrow a book. Discovering the joy of reading widely
(from J. R. Ackerley, Jean Genet, and Ivy Compton-Burnett to the classics) and
intelligently, she finds that her view of the world changes dramatically.
Abetted in her newfound obsession by Norman, a young man from the royal
kitchens, the Queen comes to question the prescribed order of the world and
loses patience with the routines of her role as monarch. Her new passion for
reading initially alarms the palace staff and soon leads to surprising and very
funny consequences for the country at large.
Review: I reviewed Alan Bennett's book Smut a couple weeks ago, and now I'm here to share this novella, The Uncommon Reader. This is a book I've seen around for awhile and was always curious to read. Now that I have, I would definitely recommend it to others, especially those of us who wish we had more time in the day to read.
The basic idea is that the Queen of England slowly begins to develop a true love of reading. As she becomes more and more obsessed, the more her staff worries. They are not used to this Queen, who sees her duties as more of a chore, as she would rather be reading.
It was exciting to read about someone finding their love of reading and seeing how all they wanted to do was either read or discuss books. At the same time, you wanted to yell at the people who worked around her for not understanding the passion. Granted, there is always a balance in life and the Queen tried to find that, but it was difficult. The things she used to do as part of duty became tedious and more obviously annoying.
One of the most interesting parts of this novella is the end! I was enjoying it throughout, of course, but the end left me going "wait, what?! I need more!!" Definitely worth checking out!