Boxers and Saints by Gene Luen Yang

Buy the boxed set today

Review by Lauren

copies for review, but all opinions are my own

Official Summary for Boxers: China,1898. Bands of foreign missionaries and soldiers roam the countryside, bullying and robbing Chinese peasants.

Little Bao has had enough. Harnessing the powers of ancient Chinese gods, he recruits an army of Boxers – commoners trained in kung fu who fight to free China from "foreign devils."

Against all odds, this grass-roots rebellion is violently successful. But nothing is simple. Little Bao is fighting for the glory of China, but at what cost? So many are dying, including thousands of "secondary devils" – Chinese citizens who have converted to Christianity.
Boxers Review: Boxers and Saints is one of the most fascinating graphic novel projects I've seen. Author and illustrator Yang has created a full-bodied story of the Boxer Rebellion in China. Both Boxers and Saints is needed to get the complete story of both Bao and Vibiana (the young lady in Saints), but you're obviously able to read them as separate novels since they are companions to each other.
Bao is a young boy who is desperate to be seen as a good fighter; he wants to be someone worthy of Chinese history. When he's finally given a chance to lead men toward eradicating the foreign devils (foreign Christians and any Chinese that have become Christians), he finds a purpose for his life. He follows a list of edicts that guide him, but he is not always fair. Bao's life is interesting because he's the youngest brother, but the one with the most power and that often comes into play.
a scene where some of the men turn into their gods
I will admit that both of these books are difficult to explain because they involve a bit of mysticism. For example, Bao and his band of brothers do a ritual before entering battle, where they "become" Chinese gods, able to defeat more experienced armies. The god Bao becomes is Ch'in Shih- huang, the man who united China. He is not a fair being, unable to see beyond China as a whole. He would have done anything to keep China from falling to the foreign devils and he expects the same of Bao, making him do horrific things in the name of his country. Boxers definitely has some good character development when it comes to Bao. He does not completely change throughout the book, but there are moments and experiences that help him evolve.
I didn't know anything about the Boxer Rebellion going into these novels, but I feel like most aspects of it were easy enough to understand. If anything, it makes you want to learn more.
Official Summary for Saints: China, 1898. An unwanted fourth daughter, Four-Girl isn't even given a proper name by her family. She finds friendship—and a name, Vibiana—in the most unlikely of places: Christianity. But China is a dangerous place for Christians. The Boxer Rebellion is murdering Westerners and Chinese Christians alike. Torn between her nation and her Christian friends, Vibiana will have to decide where her true loyalties lie . . . and whether she is willing to die for her faith.
Saints Review: Four-Girl, or Vibiana as she becomes, appears a couple times in Boxers, but it is not until you read Saints (or vice-versa if you want to know more about Bao) that you really come to know this young woman. She was not deemed worthy enough by her grandfather to be given a name, so her family simply calls her Four-Girl. When Four-Girl meets a Christian man, though, she begins to learn more about the religion and finds a place away from her family. She is baptized and given a name of her own: Vibiana.
Vibiana ultimately leaves her home and enters a village, where she lives and works in an orphanage. It's not the job she feels is right for herself, and she's desperate to find her vocation, or "calling." When the refugees of the Boxer Rebellion begin to seek safety within her new village, Vibiana knows that she must become a Maiden Warrior. This idea comes from Vibiana's knowledge of Joan of Arc. Ever since Vibiana started learning about Christianity, she started to see the image of Joan, who ends up teaching her far more about her religion than anybody else.
Again, there is quite a bit of character development in this novel. Saints is noticeably shorter than Boxers, which is just another reason to read both books. I liked that Vibiana's story was included in this "collection" and not just Bao's point of view, because it does show both sides of this war against Christianity. It shows how people view it as a means of separating China, as well as helping its people come together. Vibiana is a feisty girl, who believed herself to be evil, because of the way her family treated her when she lived at home. Her ideas of devils led her to the Christian religion, but it ultimately becomes much more to her than a means of getting away from a family who never even gave her a name.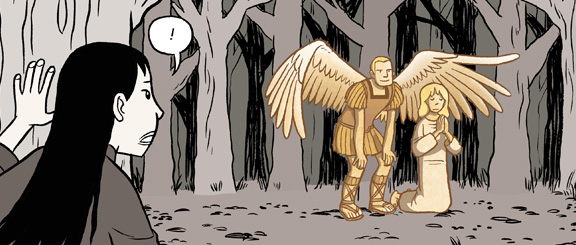 Vibiana seeing Joan, before the latter became a Warrior
The characterization doesn't just focus on Vibiana (or even Bao in Boxers). Secondary characters are given their chance to shine and share their stories. For example, in Saints, Vibiana's mother explains why she cannot allow her daughter to continue to be a Christian. It allows readers to enter her mind and see how history has shaped her beliefs, just like Joan's history will help shape Vibiana's own.
As for illustrations, the drawings are not entirely realistic, but more animated. Everyone has a unique look and it's fairly easy to follow. The coloring is different for each book. There is more color in Boxers, such as yellows, reds, and blues. I think this works because Boxers is the longer novel, and therefore, it adds a little something different. However, Saints is more black and white throughout, with the most color coming from the scenes with Joan. She always appears in gold, as well as any other aspects of the scene that come from her time, like horses, etc.