Double Feature (Attack of the Soul-Sucking Brain Zombies and Bride of the Soul-Sucking Brain Zombies) by Brent Hartinger

Review by Lauren

copy sent for review, but all opinions are my own

Official Summary: It's a horror-movie extravaganza in this, the second sequel to Brent Hartinger's gay teen classic, Geography Club. Two complete books in one recount the stories of best friends Russel and Min who sign up to be extras on the set of a zombie film and learn that there's nothing scarier than high school romance.
In the first book, Attack of the Soul-Sucking Brain Zombies, Russel must choose between his long-distance boyfriend and a close-to-home ex named Kevin who wants to get back together. In the second book, Bride of the Soul-Sucking Brain Zombies, Min struggles to accept her cheerleader girlfriend's decision to stay in the closet.
Review: I really enjoyed the set up of Double Feature. You get two stories in one, but it's important to read both books in order to have the full picture. In ATTACK, Russel is dealing with the difficulties of having a long-distance romance. He loves his boyfriend, and wants to be with him, but when they are so far away…how can it be more than just a friendship? Of course, then there is his ex Kevin who is willing to do a lot to get Russel back. It's sweet, but is it genuine? Russel doesn't think so but you have to wait until BRIDE to understand everything concerning Kevin's actions. Another aspect of ATTACK is Russel's dealings with his parents. They finally learn about their son's sexuality and they are less than happy about it. Russel is obviously upset, but he finds ways around his parent's attitude in order to keep his sanity.
The second story BRIDE is different from any of the other Russel Middlebrook books because it's narrated by Min. It takes place during the same time frame as Russel's story, so you get a few scenes that are parallel from the first book. However, as it's from Min's point of view, it never feels too repetitive. I liked getting into the mind of Min and learning a bit more about this know-it-all who just wants a relationship she can pronounce to the world. Her new girlfriend, however, isn't ready to come out…and Min isn't sure she can handle a repeat of her last relationship.
In the end, unique novel and a nice addition to the series!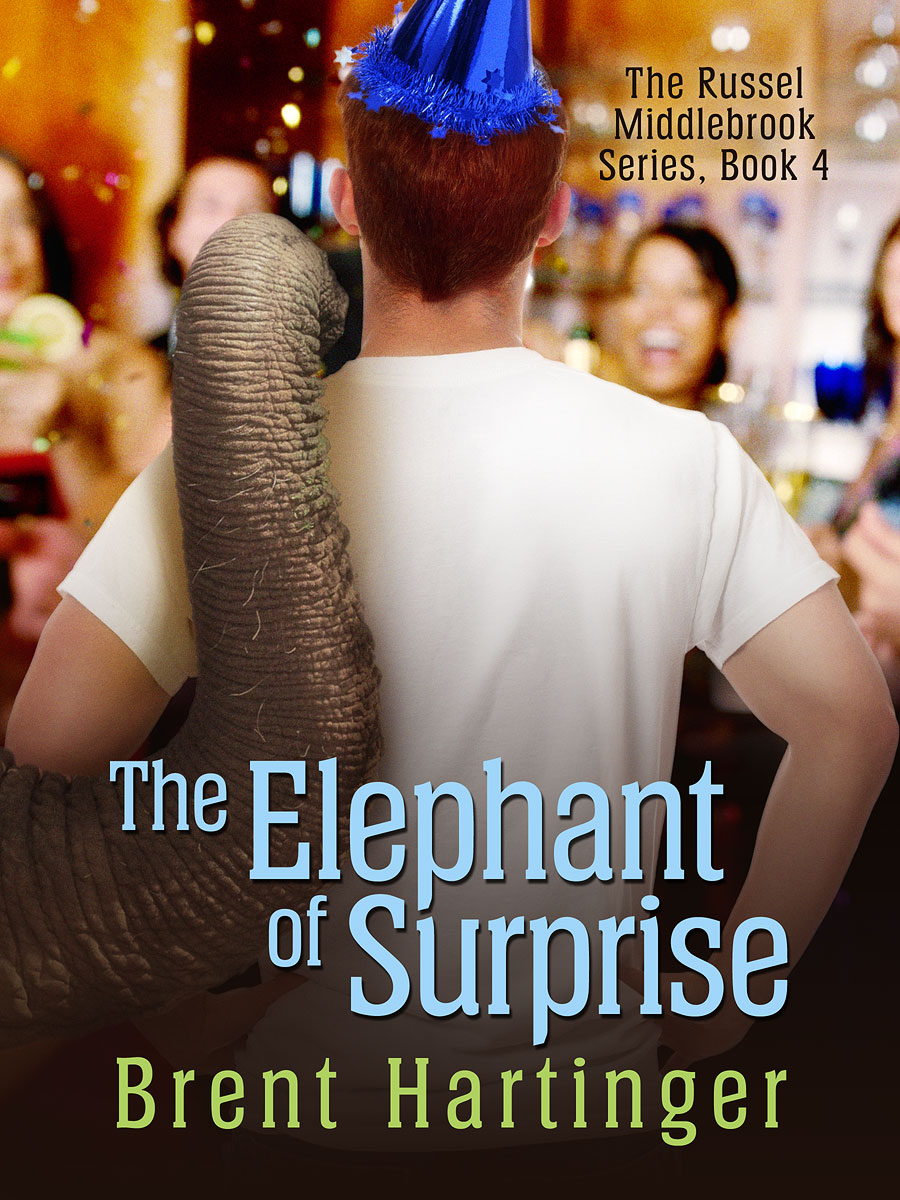 The Elephant of Surprise by Brent Hartinger

Review by Lauren

copy sent for review, but all opinions are my own

Official Summary: People aren't always what they seem to be. Sometimes we even surprise ourselves.So discovers seventeen-year-old Russel Middlebrook in The Elephant of Surprise, a stand-alone sequel to Brent Hartinger's landmark 2003 gay young adult novel Geography Club (which has now been adapted as a feature film co-starring Scott Bakula and Nikki Blonsky).

In this latest book, Russel and his friends Min and Gunnar are laughing about something they call the Elephant of Surprise – the tendency for life to never turn out as expected. Sure enough, Russel soon happens upon a hot but mysterious homeless activist named Wade, even as he's drawn back to an old flame named Kevin. Meanwhile, Min is learning surprising things about her girlfriend Leah, and Gunnar just wants to be left alone to pursue his latest technology obsession.
Review: As far as I know, this is the final book in the Russel Middlebrook series, though I wish it wasn't since I have come to truly love Russel as a character. For the most part, he is a realistic teenage boy who just wants to find acceptance and love. He doesn't look for trouble, though it does often find him. In the end, though, he has his friends (Min and Gunnar) who will always be by his side.
The rest of this series focuses mostly on typical high school experiences. Yes, Double Feature has the main characters performing as extras in a zombie film…but that's about as "unique" as it gets. However, The Elephant of Surprise is a bit different in that regard. Russel is still dealing with the same type of issues he has been — romance, friendship– but now he's found himself falling for a guy named Wade who follows a path of life called freeganism. Him and the other freegans essentially squat in empty houses, find food in the dumpster, and live by the philosophy that material possessions are not that important and nobody should live with money as their main goal. Russel is fascinated, yet completely aware this could be some sort of "cult" type of mentality. He appreciates what Wade believes in, but he's more interested in being with Wade than becoming a freegan. The truly "unique" aspect of this storyline comes near the end of the novel, so I don't want to spoil anything! It's certainly interesting…even if most teens couldn't say they've dealt with anything similar.
Finally, I liked that Kevin made more of a comeback in this novel. It's always interesting to learn more about him…as we do get more insight into his actions and attitudes in Double Feature. I just wish we could have a novel from his point of view, or another Russel book featuring more of him.
Overall, the Russel Middlebrook novels are an enjoyable, realistic series that read quicker than you might wish! And hopefully I didn't spoil anything too big in my reviews. I tried to focus on generalities!