I'm a huge fan of Sherlock Holmes so I had to visit 221B Baker Street (yes, that's the address). My sister had been to London before, so she'd already gone here, but she happily brought me back so I could check it out. There is a Sherlock Holmes Museum here where you can pay to go on the tour. I didn't really feel the need to do so. Instead, I just visited the Sherlock Holmes Shop, which is attached to the museum. Here, you can find all sorts of fun Sherlock themed items to look at and buy. I ended up getting two pens, a bookmark, and a tote bag to commemorate my visit.
Outside of the museum/shop there is a man "on guard" with some hats next to him. You're welcome to grab a hat and snap a photo with him, so I did! The hat I chose would make me Dr. Watson, I believe!
Whether you visit the actual museum or not, I do think visiting 221B Baker Street is a must if you're a Sherlock Holmes fan. Just think of the photos you can get! And I do recommend checking out the shop at the very least.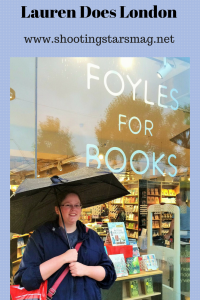 Other Entries in My Lauren Does London Series:
3 Things to Know Before Riding the London Eye
5 Things to Explore in the London Dungeon
Harry Potter and the Cursed Child, Live in London