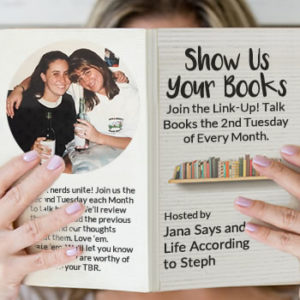 Welcome back to Show Us Your Books, with Jana and Steph!
If you've read my blog for awhile now, you know that I regularly share book reviews on the blog so if you want to know what else I've been enjoying, just look at my previous posts for 2018. For now, I'm going to share some quick thoughts on books I read and never reviewed!
The Break Down by B.A. Paris
source: e-library; all opinions are my own
Official Summary (add to Goodreads): Cass is having a hard time since the night she saw the car in the woods, on the winding rural road, in the middle of a downpour, with the woman sitting inside—the woman who was killed. She's been trying to put the crime out of her mind; what could she have done, really? It's a dangerous road to be on in the middle of a storm. Her husband would be furious if he knew she'd broken her promise not to take that shortcut home. And she probably would only have been hurt herself if she'd stopped.
But since then, she's been forgetting every little thing: where she left the car, if she took her pills, the alarm code, why she ordered a pram when she doesn't have a baby.
The only thing she can't forget is that woman, the woman she might have saved, and the terrible nagging guilt.
Or the silent calls she's receiving, or the feeling that someone's watching her…
Review: I really liked the premise of this one, and I'd heard good things, but honestly, this was only a solid 3 stars for me. I didn't guess everything until it was revealed, but I still felt like a lot of the "twists" were a bit obvious and not all that exciting. I'd still be curious to read something else by the author!
Bad Company by K.A. Mitchell
source: copy from publisher; all opinions are my own
Official Summary (add to Goodreads): Some things are sweeter than revenge. 
"I need a boyfriend." 
Hearing those words from his very straight, very ex-best friend doesn't put Nate in a helpful mood. Not only did Kellan Brooks's father destroy Nate's family in his quest for power, but Kellan broke Nate's heart back in high school. Nate thought he could trust his best friend with the revelation that he might be gay, only to find out he was horribly wrong and become the laughingstock of the whole school. Kellan must be truly desperate if he's turning to Nate now. 
Kellan's through letting his father run his life, and he wants to make the man pay for cutting him off. What better way to stick it to the bigot than to come out as gay himself—especially with the son of the very man his father crushed on his quest for money and power. Kellan can't blame Nate for wanting nothing to do with him, though. Kellan will have to convince him to play along, but it's even harder to convince himself that the heat between them is only an act….
Review: Okay, so this is one that I didn't even rate. I'm not sure what it would be – I don't always rate books. I liked aspects of the book, and I do love a friends to lovers romance. I think, however, that the romance happened a bit too quick for my liking. Plus, there are a couple things mentioned in the book that were never properly addressed, or at least I didn't think so, and I think that hurt how I saw the characters and overall story line. Regardless, I'd still read more by the author – they are a good writer all around.
The Love Interest by Cale Dietrich
source: e-library; all opinions are my own
Official Summary (add to Goodreads): There is a secret organization that cultivates teenage spies. The agents are called Love Interests because getting close to people destined for great power means getting valuable secrets.
Caden is a Nice: the boy next door, sculpted to physical perfection. Dylan is a Bad: the brooding, dark-souled guy who is dangerously handsome. The girl they are competing for is important to the organization, and each boy will pursue her. Will she choose the Nice or the Bad?
Both Caden and Dylan are living in the outside world for the first time. They are well-trained and at the top of their games. They have to be—whoever the girl doesn't choose will die.
What the boys don't expect are feelings that are outside of their training. Feelings that could kill them both. 
Review: I can see why people might find fault with aspects of this book, but overall, I really loved this one. I think the premise is so fascinating – and original (which can be hard to pull off these days!) The biggest complaint I had throughout the book is that Juliet, the girl both Caden and Dylan are "vying" always sounded a bit stilted and off. I didn't have this problem with the other characters, so I don't know why it was that way for Juliet. At any rate, this was a quick, enjoyable read and I really liked some of the side characters – especially Natalie!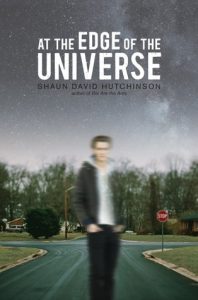 At the Edge of the Universe by Shaun David Hutchinson
source: e-library; all opinions are my own
Official Summary (add to Goodreads): Tommy and Ozzie have been best friends since second grade, and boyfriends since eighth. They spent countless days dreaming of escaping their small town—and then Tommy vanished.
More accurately, he ceased to exist, erased from the minds and memories of everyone who knew him. Everyone except Ozzie.
Ozzie doesn't know how to navigate life without Tommy, and soon suspects that something else is going on: that the universe is shrinking.
When Ozzie is paired up with new student Calvin on a physics project, he begins to wonder if Calvin could somehow be involved. But the more time they spend together, the harder it is for him to deny the feelings developing between them, even if he still loves Tommy.
But Ozzie knows there isn't much time left to find Tommy–that once the door closes, it can't be opened again. And he's determined to keep it open as long as possible.
Review: I think it's safe to say that Shaun David Hutchinson is one of my favorite authors; now I just need to read the rest of his catalog (I've read three books so far). As for At the Edge of the Universe, definitely a five star read. I actually finished the book and wrote on Twitter that this book HURT to read, but that I'd recommend it. I still agree – and you should definitely read it. I'm not sure anything else I could do to describe this book would do it justice so read the official summary and then grab a copy!
Show Us Your Books: Just some other books I've read lately...#ontheblog #bookreview
Click To Tweet
I also want to end this post by inviting you to join my Book Blog Group on Facebook. If you review books at all on your blog, you count! You can post links to your blog posts every day and hopefully find some new ones to visit (comments are great, but views/clicks are awesome too!) You can link up non-book related posts too! I'm not picky.