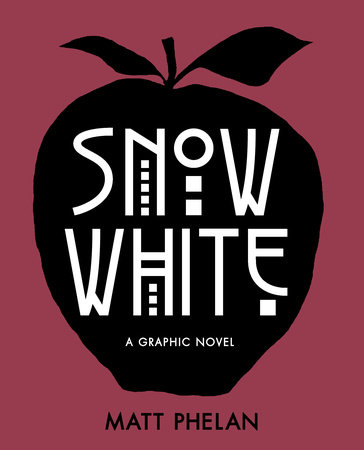 Snow White: A Graphic Novel by Matt Phelan


Review by Lauren


source: copy from BEA16; all opinions are my own


Official Summary: The scene: New York City, 1928. The dazzling lights cast shadows that grow ever darker as the glitzy prosperity of the Roaring Twenties screeches to a halt. Enter a cast of familiar characters: a young girl, Samantha White, returning after being sent away by her cruel stepmother, the Queen of the Follies, years earlier; her father, the King of Wall Street, who survives the stock market crash only to suffer a strange and sudden death; seven street urchins, brave protectors for a girl as pure as snow; and a mysterious stock ticker that holds the stepmother in its thrall, churning out ticker tape imprinted with the wicked words "Another . . . More Beautiful . . . KILL." In a moody, cinematic new telling of a beloved fairy tale, extraordinary graphic novelist Matt Phelan captures the essence of classic film noir on the page—and draws a striking distinction between good and evil.
Review: When I picked this book up at Book Expo America, all I knew was that it was a graphic novel story about Snow White. I was just excited about that, so I didn't take the time to fully read the summary on the back. Well, when I went back recently to do so before finally digging in, I was even more excited to read this one.


Instead of the typical fairly tale version, this Snow White takes place in 1928 and follows the family of Samantha Snow. Samantha's mother called her Snow before she passed, and that's how the nickname began. Now she lives with her father, who remarries a woman in show business. They live in New York before the Depression, and Snow's father works on Wall Street, except he seemed to have come through unscathed, without losing his money. This is obviously what appeals to his new life. She does not like Snow though, so she ships her off to boarding school. Snow doesn't return until her father passes away, but she's not safe with her stepmother.


I feel like there aren't too many spoilers in this story because it does follow the fairy tale, just using the era as the backdrop. This fairy tale turns into a more realistic, yet sad, story of grief and greed. Instead of a magic mirror, messages about Snow's beauty appears to the stepmother on ticker tape. If you aren't aware of what this is, the Google definition reads "a paper strip on which messages are recorded in a telegraphic tape machine."


When Snow runs off from her home, she enters the Hoovervilles, instead of a dilapidated town in fear of her stepmother. And the seven dwarfs? These are are seven young boys who live on the street and take care of one another. Aspects of the book are easy to understand, but some of the other little details like the ticker tape and the Hoovervilles require an understanding of this time period, which is why I think this would actually make a great historical novel if studying the time period. The students would already know the basic story, but the teacher could help bring this new time period to life.


I loved what Phelan did with this story! It really made the tale of Snow White come to life in a new way. As for the illustrations, they are all quite detailed and very well done. All of the ARCs had black and white photos, but it's noted that the final edition will be in full color. I most definitely want to get that edition, because this is one book to hold onto!