This is a sponsored post, powered by BrandBacker
Styled by Trendage is an iOS app that let you "try on" clothes without ever leaving your house. The app is fairly simple to use and a lot of fun! One of the things that I really enjoyed is that you can choose a hairstyle too, which has me thinking that a change in that direction might be in order.
#StyledbyTrendage: Try On Fashion Thru an App Before You Buy! #coolapps #ad
Click To Tweet
In basic terms, you download the app and then you're able to set up an avatar of yourself. You can either take a new selfie or use a photo on your camera phone. I decided to go with the latter. Once you have your head, then you can choose your hair style as well as let the app know your height and weight. You're able to edit hip size, shoulder size, and more. It might take a little bit to get something you're pretty happy with, but you can always go back and edit details later!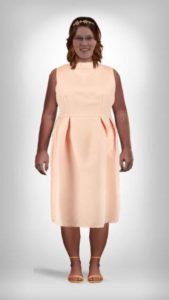 Once your avatar is complete, then it's time to swipe left and right for outfits you like! If you swipe left, then hearts will appear and that shows the app you like that type of outfit. Swiping right is a no go! However, before you ever swipe, be sure to hit the Save button at the bottom if it's something you want to look back on. There is a section in the app that lets you see all your saved outfits. I'll share a couple of my saved looks throughout this post so you get a feel for what it will look like!
I think this app is a great idea for everyone, but especially for people like me who are not exactly a size 2. It can be difficult to see how an outfit will look on yourself if you only have models and mannequins. This app allows you to get a sense of what certain looks and styles will look like on your body before you go hunting for the item in person.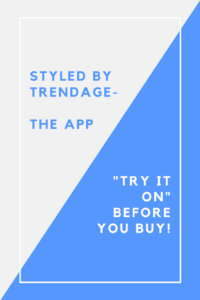 While I noticed most of the looks that were coming up for me were more fancy – dresses and cutesy type of outfits – there were still a lot of looks like I enjoyed. One of the big perks of using this app is that you'll start getting coupon codes as you swipe left and right. These codes will be saved on the app so you can go back later and use them. Some of the codes are for places like David's Bridal, Bath and Body Works, and lots more!
What do you think of Styled by Trendage? Would you use an app to let you "try on" certain looks before taking the plunge and ordering that dress or getting that haircut? Let me know in the comments!