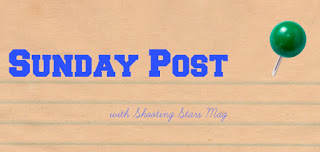 I can't believe it's another Sunday. I hope all you had a great Christmas (if you celebrated). I saw the movie Joy with my parents, sister, and brother. We all liked it. It wasn't my most favorite Jennifer Lawrence film though. It seemed to go on a bit too long, to be honest. We all really want to see Daddy's Home so that will probably happen tomorrow. Do any of you see movies on Christmas Day? It's something my family has done for years!
On the "bad" side of things, I sprained my MCL in my left knee about a week ago. I really don't know what I did; essentially twisted it wrong. So I've been in a knee brace since then. It's not too bad but when my knee is really hurting, it's not fun. It makes sleeping kind of difficult too. I'm hoping it will get better soon though because my work is physical – I move around the library the whole time, putting things away, etc. and my knee makes it hard to stand/bend down much. We'll see how work goes this week. I was lucky to get last week off!
Anyway, I hope those of you still on a bit of a blog break are having a nice, relaxing time! For the rest of you, I'm always commenting back on your blog if you comment on mine, so please start up a discussion!
Last Week on Let's Get Beyond Tolerance
My LGBT+ News/Entertainment Blog
This Week on Shooting Stars Magazine
Two different posts featuring two m/m book reviews (so four in all!)
A post from Alicia
Happy New Year and 2016 Book Challenges
(could feature other posts – always subject to change)