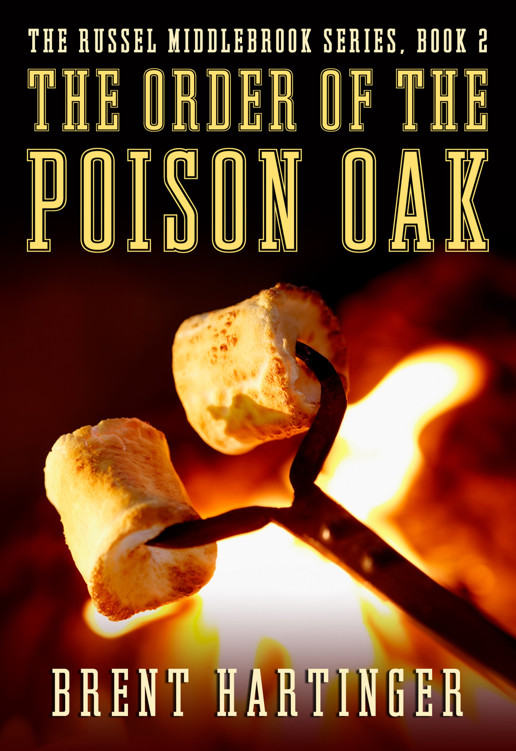 The Order of the Poison Oak by Brent Hartinger

Book Two in the Russel Middlebrook Series – book one review here

Review by Lauren

Copy sent for review, but all opinions are our own

Official Summary: "Summer camp is different from high school. Something about spending the night. Things happen."

Russel Middlebrook is back, in a stand-alone sequel to the 2003 teen classic Geography Club (now a feature film co-starring Scott Bakula), and he's off to work as a summer camp counselor with his best friends Min and Gunnar. He's sick and tired of being openly gay in high school, and a peaceful summer at Camp Serenity is just what he needs to relieve the stress that comes from being an "out" teenager.
But he doesn't count on sudden new rivalries with Min and Gunnar, or having to chase after a cabin full of unruly campers. And he especially doesn't count on a fellow counselor as hunky as Web Bastion.
Things do happen at Camp Serenity, especially at night. Brent Hartinger's third novel is a story about Indian legends, skinny-dipping in moonlit coves, and the mysteries of a secret society called the Order of the Poison Oak. But more than anything, this witty page-turner is about bravery in the face of unexpected danger, the passion of a sizzling summer romance, and, most of all, the courage to be yourself.
Review: I have to start this review by saying that I posted my thoughts on the first book in this series on April 21, and here it is, May 21…and I'm back to post about the second novel! I'm pretty sure this won't keep happening with the other two books in the series, but it was something I noticed and had to share.
Regardless of posting this exactly a month later, The Order of the Poison Oak is actually a pretty quick read. It's also perfect for the summer since that's the season it takes place in…when Russel, along with his friends Min and Gunnar, become camp counselors. For some reason, Russel thinks this will be a nice, relaxing getaway…until he meets his first group of children. They are (mostly) all burn survivors – along with the rest of the kids at this first, two-week session- which is a great idea. However, they are also ten year old boys who like being away from home and don't want to be treated with kid gloves, based on their age or their injuries. It takes a little time, but eventually Russel figures it out and things start to go a bit better.
Of course, the problems with the kids don't include his arguments and misunderstandings with Min and Gunnar…or the issues in the romance department. Russel is certainly having a crazy summer, but it's enjoyable to read about and Russel is a narrator I do enjoy! I liked that he's telling the story from the future, so while you see him do and say stupid and crazy things…you also get his present self acknowledging the wrongs he did in the past.
I suppose my one complaint about the novel would be the fact that people didn't necessarily sound realistic at times. I'd read something and be "would someone that age really think that way? or say those things?" I can't think of specifics right now; I just know it was a thought I had at times through the book. It didn't hurt my enjoyment by any means and I'm still a fan of these characters and can't wait to read more! I'm hoping we'll get to see some of the characters from Geography Club back again in the future!
Question: Did you ever go to summer camp? I did day camp in Girl Scouts when I was young, and I slept over night once with them as an older Girl Scout (I was helping out). Also, in eighth grade, my whole class spent two days and one night at a camp that was pretty enjoyable. I was too shy and insecure around the age most people go to sleep away camp, so I never really did that. But what about you? Any fun experiences?