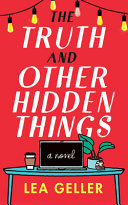 The Truth and Other Hidden Things
by
Lea Geller
Published by
Amazon Publishing
on April 6, 2021
Genres:
Family Life
,
Fiction
,
General
,
Humorous
,
Women
Pages:
312
Buy on Bookshop
Goodreads
A freshly funny and heartfelt novel about one woman's secret life, the stories she tells, and the thrill and notoriety of being noticed.
On the same day Bells Walker learns that her IUD has failed, her husband, Harry, is denied tenure at his Manhattan university. So Bells, Harry, their two adolescent children, and her baby bump move to New York's Hudson Valley, where Harry has landed a job at Dutchess College in the town of Pigkill.
When the farm-to-table utopia Bells envisioned is anything but, she turns to the blogosphere. Under the pen name the County Dutchess, she anonymously dishes about life in Pigkill, detailing the activities of hypercompetitive parents and kombucha-drinking hipsters. Suddenly, Bells has a place to say all the things she's been secretly thinking about being a wife and mother. As Bells turns the focus of her blog on her new neighbors, her readership continues to grow, but her scandalous posts hit closer to home: she puts Harry's new job in jeopardy, derails her children's lives, and risks the one real friendship she's built.
When Bells uncovers scandals right under her nose, the Dutchess goes viral, and soon everyone is asking, Who is the County Dutchess? Now Bells has to ask herself if it's worth losing the people closest to her to finally feel noticed by everyone else.
The Truth and Other Hidden Things by Lea Geller was a book that I came across on Bookstagram, and I actually ended up winning a copy over there. Unfortunately, I didn't love it nearly as much as I thought I would. I figured I'd do a bullet point style review for this one, with a mix of what did and did not work for me.
This could be a case of "it's me, not you" but it was a bit of a slower read.
Honestly, I didn't really care that much for Bells' husband, Harry. He just seemed a bit selfish and too wrapped up in his own life and need to get tenure.
I did like her children, though. Yes, they were sometimes annoying or not entirely grateful but they felt like real teenagers. Plus, there were some really sweet moments with them too, which was nice!
Bells complains about her mother and mother-in-law a lot throughout the book – for good reason – but the end kind of tries to change their dynamics, and I just felt like it was too quick and not entirely realistic
I think Bells was suffering from post-partum anxiety after giving birth, but it's never stated. I don't know if this was the author's intention – her having PPA – but I feel like it could have been done better if so, at least in terms of naming it and getting Bells better help
When the family moves, Bells starts an anonymous blog dragging the women in her town, which ultimately comes back to bite her…of course. Based on the entire book, some of these women really didn't come across as friendly and welcoming and yet the end tries to redeem some of them a bit and I just didn't buy it. And not to spoil anything, but I wanted more in the end from her one real friend in Pigkill (yes, the new town she lives in).
In the end, I would give this a solid three stars.
Have you read this, or is it on your wish list? 
bookshop.org link is an affiliate link; I get a small % of any sale