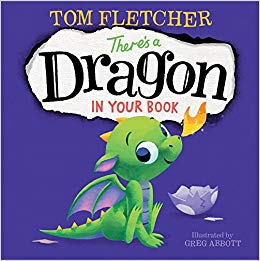 I was so excited to be accepted for the blog tour for picture book There's a Dragon in Your Book by author Tom Fletcher and illustrator Greb Abbott. You might recognize Tom Fletcher from being a member of the band McFly, or perhaps some of his other books, like There's a Monster in Your Book, which I reviewed here.
McFly band member, Tom Fletcher, has another fun, interactive book out: There's a Dragon in Your Book #ontheblog #bookbloggers
Click To Tweet
If you are looking for a fun book to read-aloud to – and with – children, then you need to pick up There's a Dragon in Your Book (add to Goodreads).
The basic premise of the story is that you open up your book and what is this? an egg in your book! As you turn the page, your egg hatches and you have a dragon in your book – but it's okay! It's just a baby dragon…until that baby dragon sets your book on fire.
This is a really quick read, but it's sure to be a fun way to read with the kids in your life. They can tickle the dragon's nose, flap the book like wings, and much more. It gives a really enjoyable interactive element, which will definitely please book lovers and even those a little reluctant when it comes to reading.
I might be an adult, but I still found myself smiling as I read There's a Dragon in Your Book. It just makes you happy, and the illustrations by Greg Abbott are so well done. You'll definitely find yourself wanting your own little baby dragon by the end of the book – just like Hagrid in the Harry Potter books!
This is a great book for any time of the year, but with Halloween coming up, I can't think of a more suitable time! Grab your copy of There's a Dragon in Your Book today.
Tell me: How do you feel about "interactive" type of picture books? Do you have any favorites?