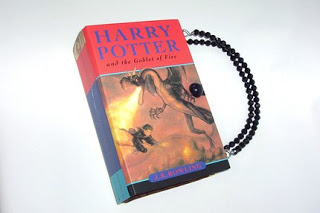 Interview with Retrograndma
By: Lauren
Links: retrograndma.blogspot.com
retrograndma etsy shop
This is the first installment of Thursday Threads (clothing lines, crafts, etc.) I'm very sorry for the delay, but I hope you enjoy the interview with Retrograndma who makes really amazing purses, record holders, and the like out of records and old books. As for me, I'm dying to have one of her book purses!
1. Have you always been a fan of making your own accessories?
When my kids were young I sewed just about everything they wore. Then I got into many other crafts along the way. My life is just not complete without creating something unique.
2. How did you come up with the idea to make purses, as well as other things, out of records and books? Do you have any future plans in mind?
I'm from the record era! My husband has 100's of albums and loves to still listen to them. I started off with making a record bowl that I saw on the internet and then it just went from there. I've seen alot of album cover purses made on the internet and they just didn't appeal to me the way they were made. My mind was busy for months trying to create my own pattern for a light but durable purse and finally one day I got it!

3. If you could use any record/book to make a purse out of, that you haven't already, what would it be and why?
I'm from the Beatle era and would love to get ahold of more of those albums to create purses. I've made and sold alot of book purses – I never get tired of making them as each one is unique and I can't wait to finish it to see the final product. Nancy Drew Book purses have been the most popular for me.
4. What is the average price of your items? How can people go about purchasing something?
Prices of my record purses start at 39.99. Of course the "hard to find" covers are higher. Book purses range from 35.99 – 49.99. I have done several custom orders if you have a "favourite" book or record that you'd like one made out of.
If you're not into purses I also came up with an idea to create record containers that can hold whatever fancies you! And also record earring holders!
My future plans are to retire in 2 years and then I can craft all day long at home!