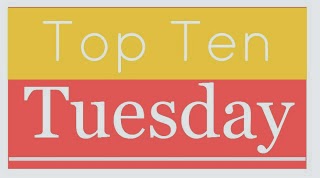 This week's topic: Top Ten Character Names I Love or Top Ten Unusual Character Names
I'm not going to specify what side of this week's topic I'm choosing, because my favorite character names tend to be the more unusual/unique ones.
1. Draco Malfoy – I love that his first name means Dragon; it's very suitable for this prickly character.
2. Sherlock Holmes– his name just seems to scream intelligence. It's a smart-sounding name.
3. Amelia Mignonette Grimaldi Thermopolis Renaldo– the Princess Diaries books are enjoyable, and I just love Mia's full name – very fun to try and say!
4. Severus Snape– yes, another Harry Potter name, and the last, I promise! I just think this one is suitable for his character.
5. Katniss Everdeen– one of those instances where the name describes the character so well, and I just love how pretty it sounds, despite it's oddness.
6. Holden Caulfield– I like that the first name almost seems to say "hold em'" which means sense if you've read The Catcher in the Rye.
7. Atticus Finch – the name just makes me smile; it sounds like it belongs to a great guy.
8. Newland Archer– this is a character from The Age of Innocence. I just love the way the name sounds!
9. Dorian Gray – love how posh this name sounds!
10. Dean Moriarty– character from On the Road. I love how the name exudes cool and ease, just like the character behind it.