First off, I want to thank Ginny from Gin's Book Notes for making the awesome banner above for this new feature. The idea behind this feature is that instead of traveling way out of town to do fun things, you should try Touring Local. I'm going to try and have at least one post each month for the previous month's adventures! Most of these activities were either in KY or OH, since I live on the border.
Touring Local: September Edition
September 6, 2014
Crafts and Drafts is presented by a local newspaper called CityBeat. It's an outdoor festival with, you guessed it, crafts and drafts! Various musicians would be performing throughout the day too. I ended up going pretty early in the morning to check it out, so I didn't hear any singers. Instead, I made my rounds around the festival just to see what was available.
This is a look at some of the booths and the area we were at. I didn't stay long, but I did get a couple minky tag blankets for a couple of my friend's that are currently pregnant. They are super cute! I wish I had a picture of them…but I guess you have to take my word for it. I love craft festivals but this one wasn't that big, so I don't know if I'd go again.
After the Crafts and Drafts, we were headed home when we saw that there was an event going on at the Lunken Airport so we decided to stop in. They were having an Aviation Day where people could come and check out some old-fashioned planes close up. You could even purchase a ride in one!
This is my dad hanging out in front of some of the planes!! It was really cool to check these out up close. It was also cute seeing all the young kids hanging out. There was one plane that was low to the ground that the kids were taking turns sitting in!
The above plane was huge! There were a couple parts under the plane that you could look up into. We checked out the back area, where I guess the bombs were held.
Before we left, we visited the booth from Amaizing Grace to get some awesome kettle corn. You can't go wrong with kettle corn in the fall. There were some other areas/booths to check out here as well. You could get flavored ice and later in the afternoon they were giving out free lunch and soda. We were a bit too early for that, so unfortunately we left before the food.
September 17, 2014
The Best of the North Celebration was such fun! I am definitely going to attend next year. Best of the North was presented by Cincy Magazine and was held in the Sharonville Convention Center in Cincinnati, Ohio.
From their website: Hundreds of Cincy Magazine
readers have nominated their favorite places to eat, shop, and have fun
in Northern Cincinnati. Now it's your turn to join the fun and decide
who comes out on top!
Featuring more than 60 local businesses, this is your opportunity to
vote for your favorites in over 60 categories of local food, retail and
service organizations.
The convention center was a great place to hold this event because it easily held all the businesses that had been nominated and showed up to the event. There were a few bars throughout the room (each ticket to the event got you two drink tickets) where you could trade in your drink ticket for water or a soda. Other drinks were available for a fee. There were also some tables to sit at on the left side of the room, as well as standing tables around the booths. My mom and I attended this event together, and we were lucky to always find a quick spot when we needed to try the food we were given.
While Best of the North featured all sorts of businesses from restaurants, to consignment shops, to ice cream locations, spas, and more, the places that offered food were my favorite because they all had something you could grab and try out. The first item in the first picture above is the booklet where we voted for what we liked best under each category. Once we had walked around the whole room, my mom and I filled out the booklet and turned it in!
I included some photos and links above to feature just a select number of businesses that were featured at Best of the North. The cookies are something I'd love to try again and Painting with a Twist is a business I want to visit; you can drink wine while painting a lovely picture! Again, Best of the North was a lot of fun and I'm already excited for next year!
September 21, 2014
The Cincinnati Comic Expo was the first comic event that I've been too, but it was a lot of fun. It took place over a whole weekend (Friday to Sunday) but I was only able to go on Sunday. This was probably a good thing or I would have spent way too much money (even more than I did!). My sister, a friend of hers from work, and myself attended this event together.
My sister and I (I'm in the Batman sweater) posed in front of a replica of Sherlock Holmes' front door. My sister was about to take a picture of me when a couple girls stopped and offered to take a photo of us together.
We then took a picture in front of the Tardis. The same girls let us borrow their sonic screwdrivers for the photo!
I took some quick photos of Paul McGann, who was the 8th doctor, as he met with fans for photos and autographs. I didn't get to personally meet him but the three of us did attend his panel at the end of the day where he was interviewed and generally amused us all! It was a lot of fun and I would totally attend another panel with him!!
The autograph/photo booths were set up along the outer perimeter of the floor so they were easy to find. An intercom would announce when people would be appearing here or presenting a panel (which were mostly on an upper floor).
Quick shot of Henry Winkler!
The actual floor space of the comic expo was huge, but everything was pretty much spaced out in rows so we simply went and up down to check everything out. My sister's friend really loves artwork, and there was plenty of nerdy posters, paintings, drawings, etc. that you could purchase. We all got a mix of items, including this really awesome Tardis drawing that my sister and her friend bought. I got a Harley Quinn poster from the same place!
Sorry for the slight glare, but I think you can get the gist of the painting. It seriously looks like a photo until you get up close to see the marks. My sister and I still need to get frames but then these are totally going to be displayed in our homes! I wish I knew the artist's name but he was out of cards so I never got it!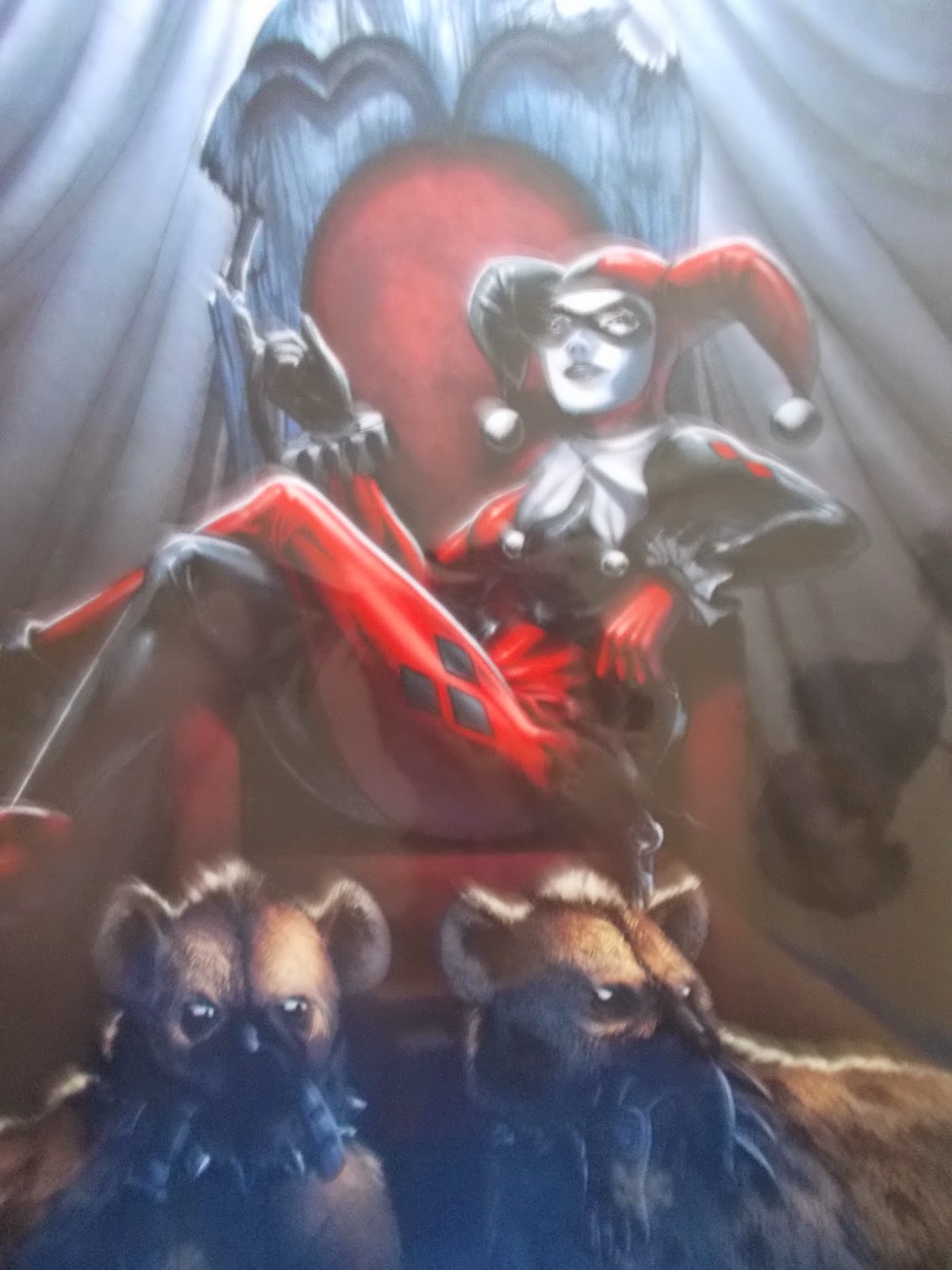 Harley Quinn
I'm on a bit of a Harley Quinn kick so I got this poster as well as some of the New 52 comics. I need to get a few more to be up to date though!
The artist signed this drawing for my sister so I'm able to tell you who he is, and that would be Chad Schoettle, currently a Cincinnati resident. By the way, I should probably note that none of these were the original drawing or painting, but a poster/print of the original so they didn't cost that much! And for those that aren't aware of Doctor Who, this above photo is the Tenth Doctor played by David Tennant.
Another booth I came across was offering personalized drawings. They wrote down your name and took a photo of you and then you could come back in about twenty minutes for the finished result. This shot (sorry it's a bit blurry) is the drawing they made of me! I think it's so cute. It's currently being used as a bookmark in a Doctor Who book I also bought at the con.
Another shop was selling little candles and I got one that had the Batman symbol on the outside. It's bright yellow and smells like bubble gum. I don't have a photo, I'm afraid, but it's up in my room and super cute! I believe the same shop was selling necklaces and my sister got a couple- Hunger Games and Doctor Who themed I believe.
I also got a little Winnie-the-Pooh print (my sister's friend got the same one). I don't have a photo of that either, I'm afraid, but it's currently framed and in my mom's room.
And finally, there was a shop called ChicalooKate that sold really fun magnets with nerdy/pop culture quotes. All three of us got one, and mine is below (taken from her etsy shop, not my actual photo):
I have this on my fridge, and I just love it! She has some really awesome magnets on her website that I'd really like to get. If you would like this Doctor Who Stories Magnet, though, be sure to visit this link.
***
Voila! I have reached the end of the Comic Expo. There are a lot of things I could still talk about, but I wanted to focus on the main details. I hope you enjoyed my first Touring Local feature and I'll share my October adventures next month. Don't forget to use local deal sites, like Groupon and others, to find good deals!