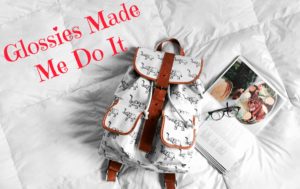 It's February and I'm very excited. Not because I have a particular affinity for the month but January just seemed to drag quite a bit for me. Anyway, I'm here today with another Glossies Made Me Do It – where Ashley from Happy.Pretty.Sweet and I share something a magazine has recently made us do – or become interested in! Join us? Link up below!
Glossies Made Me Do It: What would your memoir be titled? #ontheblog #theoprahmagazine
Click To Tweet
There were actually a couple things I wanted to do for this month but time – and money – prevented me from doing so for today. I might still feature them later in the month though, so keep an eye out!
However, for today, I'm answering a question – and I want you all to answer it too! In the beginning of every issue of The Oprah Magazine, there is a question that a mix of people who work for the magazine answer. In the February 2018 issue, the question was—
What would be the title of your memoir?
I love this question because this is something that I actually joke about. My answer?
Nursery School Drop Out
Yes, I'm a Nursery School Drop Out and I just find that a hilarious title for a future memoir! I went to nursery school at the age of 3 – it's kind of like a mix of daycare/pre-school if you've never heard of it. Unfortunately, I was left alone in the hallway one morning (I think I couldn't find my hook for my backpack – that's what I remember at least) and I guess I was way too young to handle that! haha Don't worry…I went to pre-school the next year at the age of 4 and I feel like I was in school ever since (it's been about two years now since I got my master's so from 4-25 I was in school).
What do you think? Would you read a memoir with that title?
Please answer the question in the comments if you have a possible memoir title.