Happy FebruHARRY! I actually featured Chloe and her HP dreamcatchers back in 2016, and I'm happy to have her back today. She still has dreamcatchers available (not just HP themed ones too) – but she also has some fantastic wands that I really want to fill you in about.
C&C Creations has offered a free wand to one winner, but before we get to the actual giveaway, we need to take a look at just what this shop has to offer. You can get a dreamcatcher, wand, magical art, or bracelet. It's a nice mix and you're sure to find something you'd enjoy. I personally still want a dreamcatcher of my own – maybe the Slytherin themed one.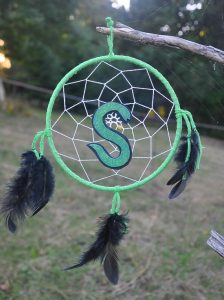 Now, the newest addition to the shop from the last time I featured Chloe are the wands. These aren't just wizard themed wands either.
Here are just a few –
Saber Wands:
Wizard Wands:
Flower Wands:
Aren't these just gorgeous? Whether you want one for yourself, or to give as a gift, I can now share a fab giveaway courtesy of C&C Creations!
Win Your own Wand (Wizard, Saber, etc.) in this #Februharry2018 giveaway! #giveaway #ontheblog
Click To Tweet
Rules:
-U.S. only (must be 13+ or have parental permission)
-shop is sending prize (ShootingStarsMag is not responsible for lost or broken items)
-Winner gets 1 wand of choice, minus the custom wands
-Giveaway End February 28th