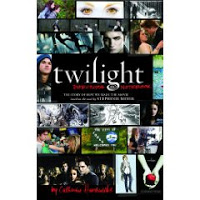 Twilight: Director's Notebook
By: Catherine Hardwicke
In this intimate book, readers will follow visionary director Catherine Hardwicke through the creative process that went into transforming Stephenie Meyer's breathtaking novel into box office gold. Designed to replicate the director's own personal notebook that she kept on set, readers will discover the inside secrets on wardrobe, storyboard sketches, behind-the- scenes photographs, personal notes about Catherine's favorite scenes, and much more.
For one, I think Catherine is a really good director (Thirteen is a favorite of mine) and I'm quite excited for this book to be released on March 17th. I saw a few pages in last week's Entertainment Weekly, and it seems like a fun, informative read about the behind-the-scenes look of turning Twilight into a film. What about you all? Anyone else going to get this?
Also, I wanted to post a link for all you Twilight fans. Justin Chon (contest still going, by the way) was a guest backstage for America's Best Dance Crew. To see that, click the link and scroll down near the bottom. Let me know your thoughts in the comments!