March is Women's History Month, and on March 8th (today), we all celebrate International Women's Day! In honor of that, I thought I'd share some women-focused entertainment options. I'll be doing more women-focused posts this month too, so let me know if you want to see anything in particular.
One: Jessica Jones
Jessica Jones Season 2 premieres today on Netflix. I love the Jessica Jones comics and I've seen most of season one. Yeah, I'm a horrible binge watcher, but I plan on finishing it ASAP (because it really is awesome) and getting started on this second season. Jessica is one fierce "superhero" who has been through a lot in her life, but she's still badass. Entertainment Weekly actually called her a superhero for the #metoo movement, and I do agree with that assessment!
Two: A Wrinkle in Time
Tomorrow, March 9, A Wrinkle in Time hits theaters. This movie is directed by a woman – and a woman of color at that – and is full of wonderful, powerful women like Oprah, Mindy Kaling, Reese Witherspoon and rising stars Storm Reid and Rowan Blanchard. I didn't grow up reading this book. I actually never read it until graduate school, but I'm glad I finally had a reason to sit down and read it. It's part of a series, but I've only read the initial book. Regardless, it's an amazing story, and I would recommend it. There's a beautiful graphic novel version available too. I hope to see the movie this weekend!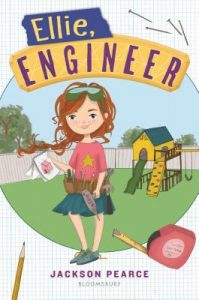 Three: Ellie, Engineer
It's never too early to teach boys and girls that it's okay to like what you want, and that "boy stuff" and "girl stuff" is not gender exclusive. Ellie, Engineer by Jackson Pearce is the first book in a new middle grade series about a girl named Ellie that wants to be an engineer. She has a tool belt and a workshop, as well as a best friend that is happy to help her make all sorts of inventions. I loved that Ellie got to know the boys in her neighborhood better, realizing that they aren't all that bad. They can be helpful and interested in "girl" things too, like attending a tea party.
I hate the idea that boys and girls might be raised to think that only boys like certain things, and only girls like certain things. If you have an interest in something, whether that's STEM or sports, then you should be allowed to go for it. Ellie, Engineer is also a great look at friendship and coming together to help someone else. It's a cute book and even includes some fun illustrations!
If you're interested in sharing this book with any young readers in your life, it's available now. You can learn more on Goodreads here and I'd like to thank the publisher for providing me with a copy to review; though as always, all opinions are my own.
***
A few entertainment options for International Woman's Day and Women's History Month - do you have any to add? #ontheblog #womenshistorymonth
Click To Tweet
How do you plan to celebrate International Women's Day, or just Women's History Month in general? I'll be sharing more posts related to the month, so keep an eye out!