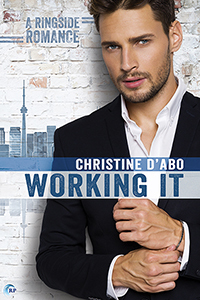 Working It by Christine D'Abo


Review by Lauren


source: copy from Netgalley; all opinions are my own


Official Summary: Nolan Carmichael is getting a fresh start—new career, new company, new life. The only problem is, he liked his old life just fine . . . until an accident robbed him of his health, his job, his self-confidence, and his ability to go out in public without having anxiety attacks.

Zack Anderson has scared away his last four administrative assistants. So when he hires Nolan on a whim, he's not too worried, since Nolan will be gone within the week anyway. Two weeks later, Nolan has made himself indispensable, completely reforming Zack's schedule, life . . . and libido.
But in a company already torn by internal politics, one wrong step could ruin both their careers. And not only are they working to reopen Ringside Gym, Zack's retreat when he was a troubled teen, but they also can't help themselves falling for each other. If only the rest of their lives could go as smoothly as things do when they're alone together.


Review: Oh, I really loved this one! I really loved Nolan and Zack. They both have issues they are working through -Nolan has extreme anxiety attacks and Zack has a definite attitude/anger issue – but these aren't things they are willing to let hold them back. When Nolan gets the job as Zack's assistant, he's determined to do the best he can and show his sister that he can make it on his own. As for Zack, his surly demeanor has obviously started to change after working with Nolan.
Working It is essentially a story of moving forward after tragedy, finding a reason to change your life, and going after one's dreams. Since Zack is essentially Nolan's boss, he knows that he shouldn't start anything with him, but he can't help but be drawn to him. I'm a big fan of drama in books and relationships as long as it's not drawn out by not talking or is something completely unrealistic. I thought the drama was done really well in this book and it just made me root harder for Zack and Nolan to be with each other, and to have their future be what they always imagined. I do recommend, and I'm curious to read the second book in this series!
Want to read? Check it out on Amazon, where I'm an affiliate and get a small percent of any sale.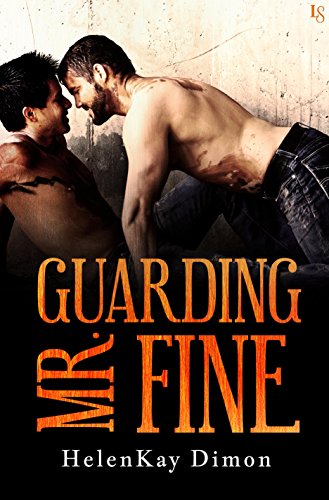 Guarding Mr. Fine by HelenKay Dimon


Review by Lauren


source: copy from Netgalley; all opinions are my own


Official Summary: As an agent with the CIA's special activities division, Seth Lang lives for risk—and yet he's stuck playing bodyguard to the U.S. consul general in Munich. Although Seth's last assignment nearly killed him, babysitting some desk jockey in a suit sounds way too easy. But when he lays eyes on the new top man, tactical expert Rick Fine, Seth's thrilled to see just how hard this job is going to get. Mr. Tall, Dark, and Quiet has a body worth guarding—and he requires hands-on attention day and night.

Dispatched to a German consulate to expose the murder of his predecessor, Rick finds himself in an extremely vulnerable position. He needs a man like Seth—in so many ways. This mission will inevitably plunge them both into jeopardy, but each new threat only brings them closer. Rick just hopes that he can keep his deepest, darkest secret hidden—or else risk imperiling a relationship they're both fighting for their lives to protect.


Review: Guarding Mr. Fine is the third book in the Tough Love series, and while I've loved them all, I think this might be my favorite. I just loved the relationship between Rick and Seth. There is a big secret that involves both of them – which only Rick is aware of – but it's a secret that makes sense to be kept, at least while the mission is happening. It adds drama to the end of the book, but nothing unwarranted or too over the top.
As for the rest of the book, this is essentially a mystery novel, and I loved that. Sure, it has plenty of romance, but it also has suspense and intrigue. Rick is sure that the former ambassador to Germany was involved in something shady and that his death is more than a suicide. He has to keep this theory mostly a secret though, so that if something is going on, they aren't spooked and hide away. It soon becomes clear that Rick is correct as someone tries to take Rick out. They don't know Seth though. He's been in the CIA for years and he's an excellent "body guard." He may have feelings for Rick, but that doesn't distract Seth. It might just make him more determined to bring down whoever would dare kill Rick.
Definitely a great read! I'll include links to the other books in the series below in case you want to read in order!
Check out the Tough Love series on Amazon – I'm an affiliate; I get a small percent of any sale.
Mr. and Mr. Smith – check it out
The Talented Mr. Rivers – check it out
Guarding Mr. Fine – check it out