YKT (You Know Them): Ellen Page with Hard Candy
All Information (that's not my opinion) is from:
Out: Now on DVD
Rated: R
Starring: Patrick Wilson and Ellen Page
Directed by: David Slade (Twilight fans: He's doing Eclipse!)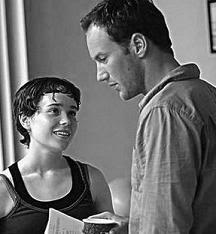 Summary: A mature 14-year old girl meets a charming 32-year old photographer on the Internet. Suspecting that he is a pedophile, she goes to his home in an attempt to expose him.
My Thoughts:
The only other movie that I've seen Ellen Page in, thus far, is Juno. I'm sure this is not shocking to most people and a lot of you have probably seen the film yourself. However, I should just tell you now…Hardy Candy is nothing like Juno. It's not a coming-of-age, dorky comedy that practically everyone could enjoy.
Hard Candy, like the summary says above, is about the character of Hayley (Page) who starts getting to know a guy over the internet named Jeff (Wilson). The two eventually meet up at a cafe and Jeff takes Hayley back to his place. Once she's there, Hayley admires Jeff's work (he's a photographer and has photos of models on the wall) and they even begin to drink with Hayley getting her own, saying basically that "You should never let someone else pour your drink for you."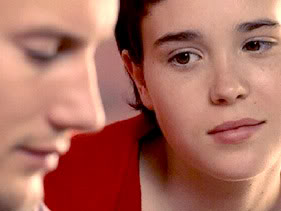 Think you know where this is going? I didn't know anything about the film before watching it in one of my classes, so it shocked me…but basically, instead of Jeff attacking Hayley, it's the opposite. She ties him up, tortures him in unique methods, and more to show that she won't just let him get away for hurting all those girls…touching them, killing even…
This small cast does an amazing job. I honestly got completely wrapped up in this film and thought that Ellen Page was tremendous. She really shows her talent in this film when you compare it to how she is in the role of Juno. I can't wait to see more by her, and I can't forget Patrick Wilson. He did just as brilliant of a job.
Once I finished watching Hard Candy, I wanted to start it over and watch it again. Too bad it was for class…but I'm definitely planning on renting or buying it as soon as I can.
What about you? Does it sound like something you'd like? Seen these actors in anything else? Have you already seen it, and if so, what did you think?