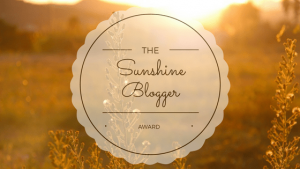 I'm usually really bad at doing things that bloggers tag me in, but I thought I'd at least try and do this one. I was tagged by the lovely Emily from Pizza & Pull-Ups. I know not everyone likes to be tagged in things, so I'm just going to answer these questions for fun (if you want to answer them in the comments, or do your own post, please do, and let me know so I can visit your blog!)
11 Random Facts About Me- Check out my new post #ontheblog #bookbloggers
Click To Tweet
What made you decide to start your blog?
I was actually in an online book club for years and the idea for the blog came about between myself and another member named Keaton. Some of the earliest posts also include some of the other book club members that wanted to help out. We mostly focused on music at first, but then it didn't take long to bring our love of reading and other entertainment to the blog. Nowadays, it's just me (and occasionally Alicia, who I met through a bloggy friend).
What is your favorite thing about blogging so far?
I've been blogging for a little over 10 years now, so I'd say that my absolutely favorite thing about blogging are all the friends and connections I make. If it wasn't for people commenting, and being able to visit other blogs myself, I don't know that I would be doing this still.
What's the last show you binge-watched?
I'm so bad at binge watching shows! I just lose focus after awhile, even if I really like the show. My version of binge-watching though? Probably the Netflix show Mindhunter. I can't wait for season 2!
Are you a night owl or an early bird?
I can actually be both! I don't really have a preference for one or the other, though if I really had to choose, I think I'd go with late nights rather than early mornings just because I like to sleep.
If you wrote a book, what would it be called?
I have actually written a book, and I even tried to get an agent for it. It was called The Heartbreak Boys. I still might re-write it in the future, but I have a lot of other book ideas I really need to focus on.
If you could go on your dream vacation tomorrow where would you go?
Oh gosh, can I say travel all over Europe? I've only left the country once and that was to go to London. It was amazing and I want to go back, but I also want to see the rest of Europe!
Coffee or Tea (or if neither, beverage of choice)?
I'm a weirdo and I don't like warm drinks, so no coffee or tea for me. Beverage of choice though? Coke Zero or Vitamin Water Zero Lemonade.
What advice would you give to your teenage self?  Would your teenage self have listened?
Try new things. I feel like I did okay with this to an extent, but I had a lot of anxiety, so I'm not really sure I would have listened…or that it was the best time for this anyway. I've gotten much better!
Do you make New Year's Resolutions?  Do you keep them?
I make goals in general, but they aren't necessarily things I need to do in a year. For instance, I do want to lose weight, eat healthy, and be more active, but I'm also in a weight loss program and I take two dance classes…so I'm making strides toward these things. I'm just trying to do better and better as time goes on. It's a work in progress.
Who would your celebrity best friend be?
Oh gosh! If my best friend was a girl, I'd probably go with Yara Shahidi (from the show Blackish and Grownish) and Emma Watson (Harry Potter, etc.). If my best friend was a guy, I'd say Dan Radcliffe (Harry Potter, etc.) and Ezra Miller (Perks of Being a Wallflower, Justice League, etc.)
What is the best thing that has happened to you this week?
Today is Wednesday, so from last Wednesday, I would say seeing Neil Gaiman speak live this past Thursday. I'll have a lot more details this Friday on the event, but it was so amazing to hear him read aloud and just talk to us, answering questions, etc.