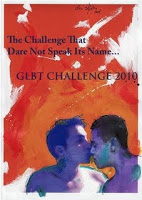 I've never actually signed up for a book challenge before but I figured it was about time so I decided to do the GLBT Reading Challenge. I'll post the brief rules below as well as the link so you can sign up/find out more…prizes involved!! I don't have a final list of books to read (I'm sure they will change as the year goes on) but I am hoping to do the Rainbow Level (12 or more books).
http://glbt-reading.blogspot.com/2009/11/glbt-challenge-2010.html
Rules/Guidelines:
The basic idea of this challenge is to read books about GLBT topics and/or by GLBT authors.
The challenge runs year-round, and there will be three levels of participation:
Lambda Level: Read 4 books.
Pink Triangle Level: Read 8 books.
Rainbow Level: Read 12 or more books.