Depending on where you live and when you're reading this, Happy New Year! I hope that 2018 will be even better for all of us – worldwide and in our personal lives. I'm ending 2017 with 192 books read, which is pretty dang good I think! I only did the Goodreads Reading Challenge for 2017, so I thought I'd sign up for some other challenges for 2018 and hopefully that will help me read certain books more and just generally have fun with my reading/blogging. Will you join me? What challenges did you sign up for?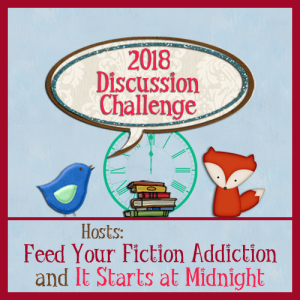 I think I just forgot to sign up for this challenge last year, but anyway, I'm back! Discussion posts are some of my favorites so I'm excited to join Nicole and Shannon in their 2018 Discussion Challenge. You can find all the details here. Basically, though, all the posts have to be book, book blogging, or blogging in general related. No off-topic posts that deal with travel or something else.
I'm going to go low and sign up for the Discussion Dabbler, which means I'll write between 1-10 discussion posts this year. Hopefully it will be more than that, but we'll see! Any bit would make me happy!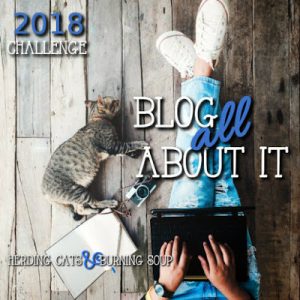 The Blog All About It Challenge is hosted by the lovely Anna from Herding Cats and Burning Soup. This one kind of goes along with the discussion challenge, but the idea is that each month will have a prompt and you write any post you want related to that prompt and then share it with everyone else! Your post does not have to be book related, but it can be if you want! I'm planning to use this for mostly non-book related posts, but we'll see!
Prompts:
January– Winter
February– Red
March– Favorite Scent
April– Art
May– Organize
June– Growl
July– Spirit
August– Beginning
September– Escape
October– Trees
November– Truth
December– Shine/Sparkle
The only thing I've seen related to Les Mis is the most recent movie with Anne Hathaway and Hugh Jackman. It's one of those books that is really intimidating, but I'm curious about it, so this challenge sounds like a great way to dive in. You see…Les Mis has exactly 365 chapters, so this challenge is a Les Mis Chapter-A-Day Read-Along hosted by One Catholic Life. I think I can handle one chapter a day, and I have a copy of my book already, so let's get started!

I always say that I'm going to finally read more of the books that I actually own, and while I've done better in recent years, I know I can get even more backlist books read. Therefore, I'm joining  the Beat the Backlist challenge hosted by NovelKnight. What's even more exciting is that when you sign up, you get added to a team and every backlist book your team reads each month earns you points – the team with the highest points each month will have a winner within that team chosen to win a prize (book of your choice). The giveaway is honestly just a fun bonus; I really like the team aspect/encouragement and that it pushes me to actually accomplish a personal reading goal. Some people's posts included books from their TBR that they want to read, but honestly, I have so many books in my house and on my e-reader that I don't know where to begin, so let's just say that I hope to read at least 24 backlist books this year (that's 2 a month), but more would be wonderful!
I'm on Team Dewey Dragon. What about you?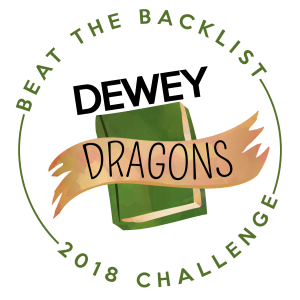 ***
2018 Blog Challenges: Which ones are you signing up for this year? #blogchallenge #bookchallenge
Click To Tweet
And that's it! Four specific challenges – two deal more with discussions and the other two are about reading books! I think that's a good mix, and I'm excited to get started with all of these.
Do any of these stick out to you? Again, let me know which challenges you've joined (book or blog related – it doesn't matter to me) and feel free to leave a link if you have a sign-up post like mine!