As the weather chills, the Ohio Renaissance grounds turn into Yuletide Village. This is the third year they've done this, and it's such a fun tradition. Thank you so much to Yuletide Village for the complimentary tickets; all opinions are my own.
The Yuletide Village runs Friday and Saturday nights through December 17. My family and I went on Saturday, November 26 – the second night it was open. This turned out to be a good choice because while it got chilly when the sun went down, it's definitely colder as the season goes on.
As soon as we arrived, we took a right inside the village and found the sweets place! As you can see from the sign above, they had a fun assortment. I had to grab one of the cookies.
I should have gotten two. Look at that thing! It was so good! Loved the icing.
After that, we figured we should probably find some actual food. We all got hotdogs and drinks and just took a moment to look around. There's a lot of different food options, which is always nice.
Since this is the Ohio Renaissance fairgrounds, everything looks familiar – just full of colorful lights!
For example, this ship is all decked out for the holidays! Some of the shops are closed as you walk around, but others are open and welcoming customers. It's always fun to see what you can find.
My sister got one of these lanterns last year. They are just gorgeous!
I also love that fire pits are all across the grounds, so you always have a place to stop to warm up a bit. There are even logs next to them so people can keep the fire going.
This is one example right by the entrance. Definitely one of the biggest fire pits!
And now some of the lovely decorations as you walk around –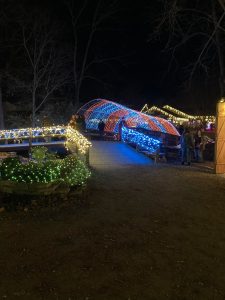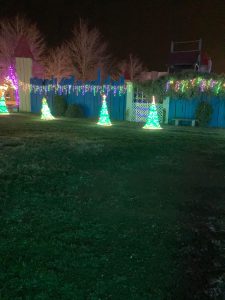 There is even a specific fire pit where you can roast s'mores. You buy a s'mores kit that gives you enough to make two s'mores and a stick to roast them on.
Definitely a fun treat!
Speaking of fun treats – of the non edible kind – there was even a train that you could ride. I didn't do it, but adults are allowed on it and I think it would be kind of fun to check it out one day. You can find train ride ticket prices on their website.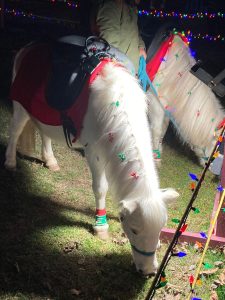 How cute are these horses? If you have a little one, they can take a guided ride around a tree. There's even a little petting zoo type area nearby that was nice to check out. I just love all the different things the Yuletide Village offers to keep families happy! You don't need children to go and have a good time though.
Tenders and tots! Just another food option that we had later in the evening. My parents also shared a Bourbon Pecan Pie that they enjoyed.
Some more shop/gift options. My mom loved this little light village in the bottom photo.
One of the things you can do at Yule is visit with Krampus! I didn't get a photo, but I loved his sign. You can also visit with Santa too, which might be more preferable for the younger children.
My whole family had a great time at Yuletide Village. I definitely recommend going if you live in the area. There is a lot of food, music, lights, shops, and activities to keep you busy for awhile. My parents enjoyed some mulled wine, as well as the hot apple cider. My sister got some hot cocoa that she loved. My sister and I even did a little shopping; I'll be sharing what I got on social media soon.
Tell me: Have you been here? Would you go? What is your favorite part?