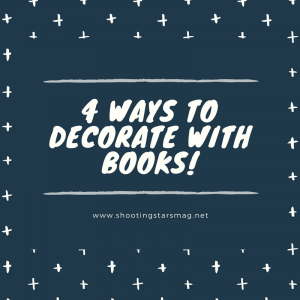 As you get older, things like decorating seem to become more exciting. I've found myself much more interested in changing up what I can, especially my bedroom. One thing that I love is anything related to books, including actual books, so I thought it might be fun to fill you all in on some fun ways you can use books to decorate around your house. If you're looking for decorating ideas for your home, then definitely check out Havenly . They even have an area on their website where interior designers share unique decorating ideas!
4 Ways to Decorate With Books - have any done any of these? #books #ontheblog
Click To Tweet
Now back to decorating with physical books!
Color Code Living Room Shelves
If you've ever looked up ways to categorize your bookshelves, you've probably come across the rainbow method. This just means that all similarly colored book covers are grouped together and it looks really awesome once you're finished. If you have a shelf in your living room that could use some decoration, I would suggest color coding some of your books. Perhaps the top has red books – and other similar items – and the middle has orange books – and on and on, utilizing the colors that work with your other decor. You don't need to fill each shelf full of books – even just three red books sitting together would look really cool. You can use books you already own or go to a library book sale/used book store to search out books based on their color only.
2. Stack Books to Add Height to Rooms
Now this title might not make the most sense right now…but let me explain. I just recently went to a wedding where the middle of each table held stacked books with little plants sitting on top. It was such a cute idea that I think you could utilize this in your own home. Maybe you want to stack the books on your nightstand and add a small lamp or alarm clock on top. You can utilize a color scheme or just use your most favorite books that you want close by. This idea works on shelves or even a coffee table too! You could easily stack a couple books and place a coaster on top or a small bowl of potpourri.
3. Utilize Coffee Table Books
I love coffee table books! They are essentially any larger book – usually with a lot of pictures – that you can place out for people to flip through. Now you could definitely place these books on your actual coffee table, but you can switch it up a bit too! Put one in the middle of your kitchen table or on a kitchen counter – a little out of the way but still close enough for people to flip through as they eat. Another fun way to use these books is to place them outside. Make sure these are covered areas – porches or decks, or that you remember to bring them in at night if it isn't a covered area. If you have a table, place a book or two out there and see who you find flipping through it!
4. Use Them as Simple Decoration
I was gifted one of those cute gift books – usually with fun photos, quotes, or something else easy to read – and instead of putting it away in my room, I placed it on top of a mantle in my living room. It stayed there until we started putting out decorations for fall and then Halloween, but I'm sure we'll bring it back out again in the future. That's my fourth and final idea idea for decorating with actual books. You don't need to place them in a strategic pattern or color code anything if you don't want. Find a favorite book, or something like my gift book with a cute design or photo on the front and place it somewhere where you can see it. This could be on a shelf, on top of a mantle or fireplace. You could even put it in a glass cabinet, the cover facing out so you can see it in the kitchen or living room. This could even be a fun beside table decoration. The sky's the limit with this one!
***
These are my 4 ways to decorate with books! Do you have any other ideas to share? Have you used books to decorate before? Please share! And don't forget to check out Havenly if you need design ideas! The idea for this post came from them, but all words/thoughts are my own.