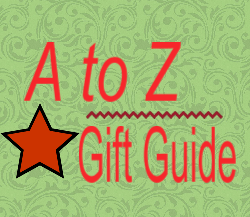 Now that it is October, I think it's officially time to start planning your holiday gifts. Alright, I'll admit it…I plan Christmas early and I already have a lot of gifts figured out/bought. I just really like giving things to other people. It's a lot of fun to pick something out you think they will really love and then see or hear their reaction. I'm a bit of a sucker for it.
Anyway, I thought it would be fun to do an A to Z Gift Guide. That means there will be a product, or even a whole site, that I will spotlight for every letter of the alphabet. You know, like H is for Harry Potter (except that probably won't be an actual post). I plan to start this week and keep it going until early December, so if you have any favorite products/sites (or make your own products) please get in touch and I'll see if there is a letter open for you- and I might do two or so options for the same letter too.
These are all items that I think sound great and would like to spread the word about, and hopefully some of you will find the perfect gift to give that special someone this holiday season or for future gift-giving opportunities.
If the company doesn't get back to me, I'll just do a spotlight post with my own thoughts…but I'd love to get some actual reviews (and giveaways of course) included too so it's a bit more exciting and mixes up the posts, since there will be a lot!
I made the fun button above with My Memories Suite. Please post it on your own site, linking up to this post or even the blog as a whole.
As a special for all of my awesome readers, My Memories give me my very own Share the Memories code that provides a $10 discount off the purchase of the My Memories Suite Scrapbook software and a $10 coupon for the MyMemories.com store – $20 value!)

To get this deal, visit the My Memories site here and use the following code:
STMMMS3648
Remember, this is only good for the My Memories Suite V3
In full disclosure, any time one of you uses this code to purchase the My Memories scrapbook software, I earn $20…which I will probably use for my own Christmas gifts. 🙂


A is for Ama Gurumi
B is for Bowser Beer
C is for Coton Colors
D is for Diamond Candles
E is for Etching Expressions
F is for Flavorlopes
G is for Geek-A-Bye-Baby
H is for Happy Toy Machine
I is for Ilmostro
J is for Just Bath and Body Stuff
K is for Kaori Glass
L is for Laughing Vixen Lounge
M is for Man Crates
N is for Nostalgic Candy
O is for Out of Print Clothing
P is for P.S. I Love You Letters
Q is for Quirky Sews
R is for Recycled Album Art
S is for Stoic Design
T is for TSCookies
U is for Unicorn Empire
V is for Vosswinkel Cookies
W is for Wear Your Music
X is for Xanadu Charms
Y is for YogaToes
Z is for Zephyr Designs