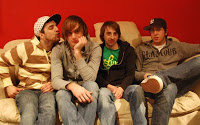 Lauren talked to Adam (bass) of Big City Lights who are from Long Island, New York to get up-to-date on where this Pop/Rock band is at and where they are headed. Along with our own questions, we enlisted a couple fans to help us out by submitting their own.
SSM: Who is this and what do you do in the band?
Adam: My name is Adam and I play bass.
SSM: A lot of bands don't like to explain the meaning behind their lyrics. They would rather the listener come up with their own explanation. Are you all the same? Is there a song you don't mind discussing the lyrics too?
Adam: I think Justin would be the best person to answer that question being that he writes the lyrics, so save this question for a possible future interview cause its a good one.
SSM: What are your future plans for the band? Any tours or albums?
Adam: Right now we're just writing as much as we can and once these new songs are done we're gonna start demo'ing them as well as re-recording the 4 songs on our myspace. Then once we have a good amount of solid demos we feel are good enough to show people we'll be giving them to some people we've been speaking with and we'll see where it goes from there. As far as touring goes we can't wait to get on the road, all we wanna do right now is get on the road as soon as possible. Plus all the comments and messages we get everyday of people asking us to come play their cities make us even more anxious to get out there. So don't worry everyone, we will be touring as soon as we can and can't wait to play for all of your beautiful faces.
SSM: We all know the question about having three wishes. But if they all had to deal with the band in some way, what would they be?
Adam: I think our main wish is that we can be successful and do this band for the rest of our lives.
SSM: What is your idea of being a successful band?
Adam: My personal idea of being successful is that we can put out the best music that we can possibly write and that people love it just as much as we do if not more, and be able to financially support myself by doing so.
SSM: If you had to describe your music in one word, what would it be?
Adam: Delicioussssssssss
SSM: How did you come up with the name Big City Lights?
Adam: Justin just one day thought of it on his own, we all liked it and said that has to be the name.
SSM: What's the meaning behind your myspace headline: CHANCE.LUCK.FATE.DESTINY?
Adam: It's actually the name of an old Perfect Endings song, which is the band we were all in a few years ago, and we just all just really like the title and feel that each word represents something special to us.
Now, it's time for some of the fan submitted questions. Thanks so much Taylor and Sarah!
Taylor: Would you rather lose all of your pictures on your computer, or all of your music?
Adam: I'd go with pictures because getting all the music back onto my computer would take a lot longer then getting pictures back.
Sarah: What's the biggest difference from having a band when you were 16 than when you are 20?
Adam: There's really not much of a difference as far as enjoyment and motivation and the sheer joy of being in a band. The only difference is that now we're more mature and take the band a lot more serious because it's something we wanna do for the rest of our lives, as opposed to when we were younger and it was just about playing as many shows as possible.
This next question is apparently an inside joke…
Sarah: What do you think about Canada?
Adam: Well obviously Sarah asked this question, but we love Canada and would love to tour there someday.
Taylor: What's the craziest fan moment you've experienced thus far?
Adam: There's a group of girls from Georgia that have been raising money to buy us a van (or a bus as they call it). We had never spoken with them before or even asked them to do so for that matter. They just left us a comment one day and said they want us to come to Georgia so bad that they'll buy us a van, in exchange for a pony.
By: Lauren and Ashley
www.myspace.com/bigcitylightsrock