I know last week was full of Harry Potter hoopla, but we're not quite finished yet…there will be a couple more posts after this one and then I promise, we'll move on. Sigh. It's a bit sad, isn't it? Now you need to drown your sorrows in sugar. How about some HP themed cookies from MissBettyCakes? Above, you can see the photo of the Harry Potter ties. These would have been great for my midnight show because I was a Ravenclaw, a friend was a Gryffindor (Ron actually), and another friend was a Slytherin. My sister just wore yellow….so Hufflepuff!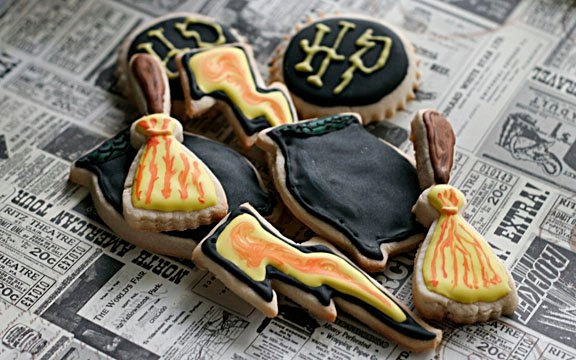 You can also get some brooms and lightning bolt cookies in case you just want a simple HP theme and not the house colors.
Each batch is 1 dozen cookies. You don't have to get Harry Potter though…MissBetty has plenty of other ideas from cupcakes to Hello Kitty! Take your pick!
They are running a promotion through the end of July for 10% off orders when using the promo code: HOGWARTS, to celebrate the new movie launch.