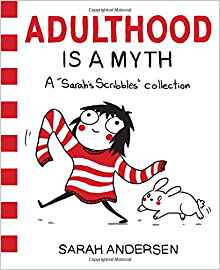 Adulthood Is a Myth: A "Sarah's Scribbles" collection by Sarah Andersen


Review by Lauren


source: copy from Netgalley; all opinions are my own


Official Summary: Do you love networking to advance your career? Is adulthood an exciting new challenge for which you feel fully prepared? Ugh. Please go away.

These casually drawn, perfectly on-point comics by the hugely popular young Brooklyn-based artist Sarah Andersen are for the rest of us. They document the wasting of entire beautiful weekends on the internet, the unbearable agony of holding hands on the street with a gorgeous guy, and dreaming all day of getting home and back into pajamas. In other words, the horrors and awkwardnesses of young modern life. Oh and they are totally not autobiographical. At all.


Review: This book is hilarious, and oh so easy to relate too! Seriously, you need this book in your life. It would make a really humorous, tongue-in-cheek graduation gift! This book is full of really cute drawings/comics from Ms. Andersen that perfectly capture the awkward, anxiety-inducing nature of growing up and dealing with life, love, work, and so much more.
It's honestly difficult to really talk about this book without showing you what I mean, so I am going to include some samples of the book that I found online. Of course, all of these comics belong to Andersen, but hopefully they will entice you to grab this book the next time you go book shopping.
This above comic is so easy for me to understand. As a blogger and English major, I feel like I have written communication down pretty well. However, when it comes to speaking out loud, especially in front of a crowd, things can get a bit dicey. I will admit that I have gotten a lot better at this, but it's still pretty frightening for me!
One of the things that I absolutely loved about these little comics is that Andersen is clearly a lover of books. Huzzah! This above comic is surely something we have all done at least once in our life, but who are we kidding? I'm sure we've done it way more than once.
What do you think of this book and the comics I shared? Would you check this out?