Music sent for review, but all opinions are our own. Photos sent for promo purposes only.
~~~
2. Obvious
3. Backup Plan
4. The Fall Guy
5. Stuck in '03
6. Enemy
7. Wrong Things
8. Two Sides To Every Story
9. We Were Right Together and We Were Wrong Together
10. Regrets and Setbacks
11. Sleep Well
Review:

All the songs are upbeat. I can picture myself rocking out to this band live or in the car, and I love that! Good vocals, pretty good lyrics, and a sound that might not be terribly unique but reminds me of the bands I loved back in the day that have either changed sound or disbanded for the most part.
If you're a pop/rock fan, I would certainly recommend you give them a listen!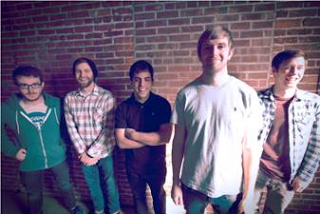 Now let's break down the review based on songs-
Late Nights-
Upbeat, the type of pop/punk I loved in high school but seem to be falling by the wayside lately. (New Found Glory-esque).
Backup Plan– I really enjoyed the meaning behind this song because I know people in my life that have become backup plans for another person and it's never fun. This is a big reason I love pop/punk bands…they tend to talk about the things in life that most people can relate too.
Stuck in '03-
"I was listening to Take This To Your Grave,
So Long Astoria and Nothing Gold Can Stay"
I have and love the albums Take this to Your Grave (Fall Out Boy) and So Long Astoria (The Ataris). Nothing Gold Can Stay is New Found Glory, which I didn't realize was mentioned in this song when I originally thought this band reminded me of them.
Enemy-Short song, anthem for not fitting in. The line "I'm more than happy to not fit in (with your friends)" would be perfect for chanting live.
Two Sides To Every Story-Alright, so it has some immature lyrics, like calling someone the personification of evil in the opening lines. However, I can relate to feeling like someone never listens to your side of the story and therefore, I love this song. It fits my life, and those are always the best, when it comes to my personal tastes.
We Were Right Together and We Were Wrong Together– Another song whose lyrics I can relate too. I just like the idea that two people can be good and bad for each other. Not personally, as I've been there, but to have that thought presented in a song is nice to hear.
Regrets and Setbacks- A positive message song about pushing through and forgetting all the haters. Every good pop/punk band needs one of these songs.
Unfortunately, the band isn't touring close enough to me so I can't see them live, but I do believe they would be really fun to see in concert and if you're interested, go check out a show! Click the photo below for tour dates!