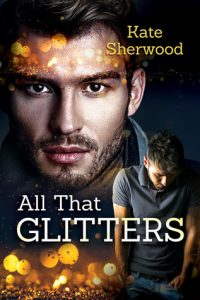 All That Glitters by Kate Sherwood
Review by Lauren
Source: copy from publisher Dreamspinner Press; all opinions are my own
Official Summary (add to Goodreads): No matter what he tells himself, wealthy NYC architect Liam has never been able to forget his first love, Ben. But as he approaches midlife and realizes something is missing, can he forgive himself for the worst mistake he ever made—the one that left a hole no amount of career success can fill? Or will fear keep him from the full life he really wants?
Liam and Ben were childhood sweethearts, then college boyfriends. But when Liam cheated on Ben, Ben forced himself to cut ties and move on. He's still living in the small town where they grew up, teaching, but it's not the life he imagined for himself as a younger man. Still, when Liam returns, he can't risk his heart again. He certainly can't allow himself to love Liam again after fighting so hard to get over him.
Neither man wants to let go of the past and face their apprehension at starting over. They don't want to fall in love a second time—but sometimes love happens whether it's wanted or not.
Review: Normally I love a second-chance romance, but I can't say I was entirely wowed by All That Glitters. While I definitely liked Liam and Ben, and I wanted them to make things work, I wish there was more of their backstory included. We get details but it's more told, not shown, and I think that kept me from fully understanding how they worked in the past and why they would be a good fit now.
For example, and this is in the summary so not a big spoiler, Liam cheated on Ben and that's why they broke up years ago. However, there wasn't enough about this moment in the book and I wish there was, not that I could yell at Liam for being an idiot (though I probably would have) but because it would have helped me understand the why a bit more.
So I didn't love All That Glitters, but it wasn't awful by any means. If you're curious about the author, I would suggest her Common Law series which I really loved!
All That Glitters by Kate Sherwood #bookreview on the blog! #mmromance
Click To Tweet