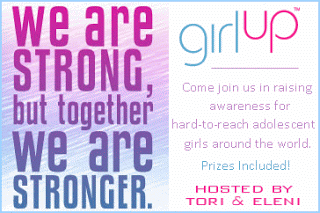 Tori from The Book Faery and Eleni from La Femme Readers are hosting an amazing event in honor of Girl Up, a United Nations Foundation dedicated towards raising awareness and funds for hard-to-reach adolescent girls around the world. By donating $5 or more, we can provide girls with basic needs such as access to school supplies, clean water, life-saving health services, safety from violence, and more. If you are interested in learning more about GirlUp, you can go here: http://www.girlup.org/
–Taken from Eleni's Site.
What do you need to do? Go and comment on either post, because the more comments they get…the more they are going to donate to Girl Up. I'm sure you can always donate yourself too, because it sounds like an amazing cause.
In honor of your comments, you can enter to win some amazing prize packs right here.
So go and comment! Show your support for what a wonderful thing these two ladies are doing!!