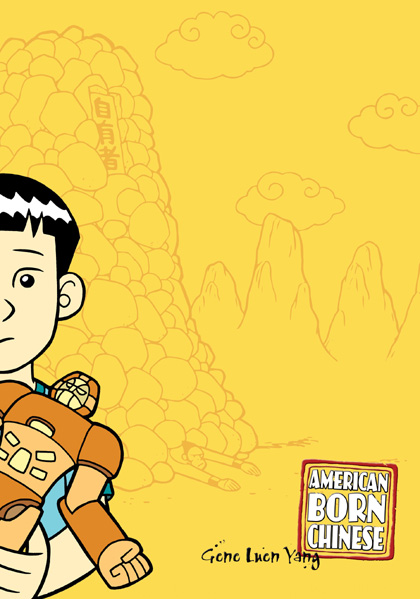 American Born Chinese by Gene Luen Yang


Review by Lauren


Source: copy from library; all opinions are my own


Official Summary: American Born Chinese tells the story of three apparently
unrelated characters: Jin Wang, who moves to a new neighborhood with his
family only to discover that he's the only Chinese-American student at
his new school; the powerful Monkey King, subject of one of the oldest
and greatest Chinese fables; and Chin-Kee, a personification of the
ultimate negative Chinese stereotype, who is ruining his cousin Danny's
life with his yearly visits. Their lives and stories come together with
an unexpected twist in this action-packed modern fable. American Born Chinese is an amazing ride, all the way up to the astonishing climax.
Review: Reading the above summary and seeing this book stated as a fable, American Born Chinese makes a little more sense to me. I do have to admit though, that I finished this book mostly thinking "what?" I liked Jin Wang and how it's tough for him to be the only Chinese-American student at his school. I was even okay with the Monkey King because I've read other books by Gene Luen Yang, and it seems like a normal aspect of his work. Overall though, this book was a bit too strange for my liking. There is a twist at the end that was interesting…but I'm not entirely sure I could reconcile the twist with the rest of the book. It just didn't really make sense to me.
I read this book for my YA Literature Course – we had to choose a Printz Award winning book and I'd been curious about this graphic novel, so I thought I'd try it out! In the end, I'm happy to have given this a chance but I'll stick to other works by this author.