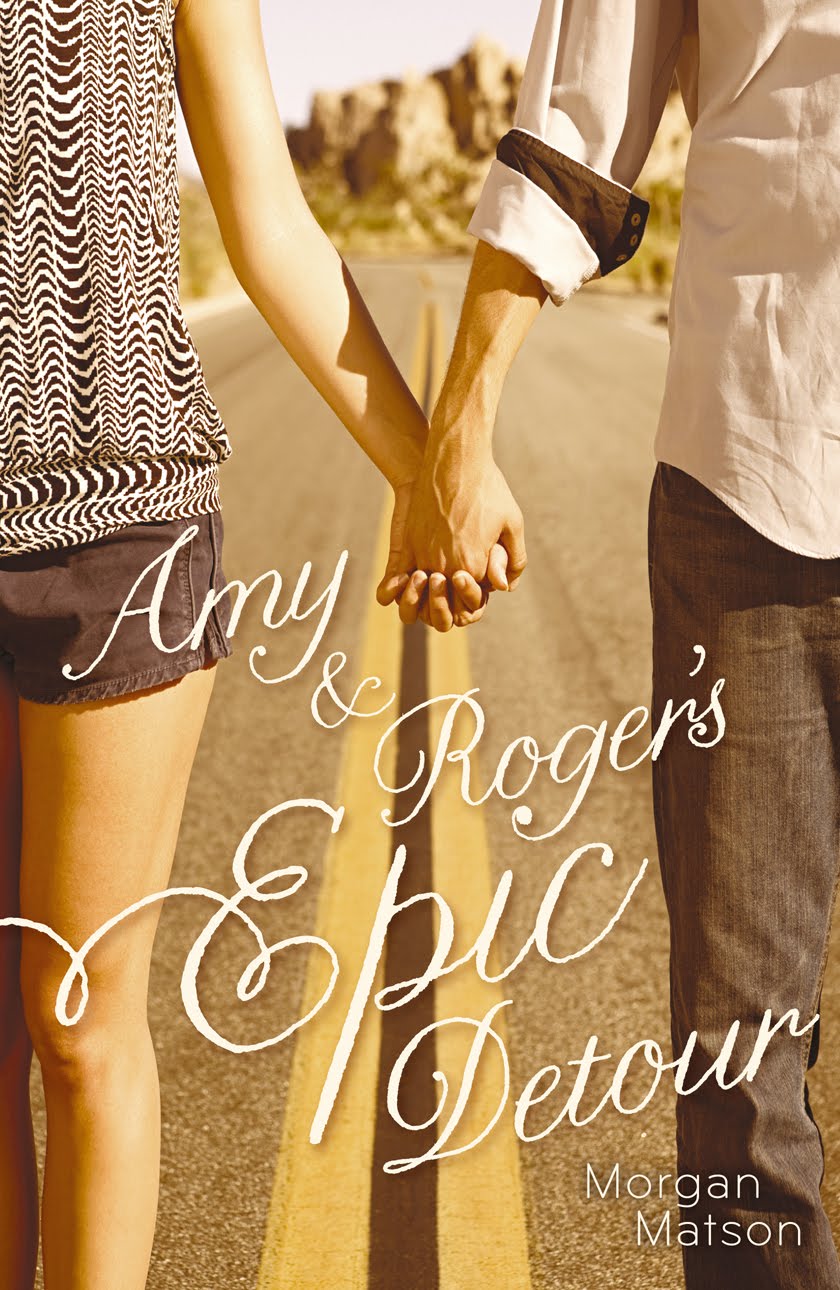 Amy and Roger's Epic Detour by Morgan Matson

Review by Lauren

bought a copy, all opinions are still my own

Official Summary: Amy Curry thinks her life sucks. Her mom decides to move from California to Connecticut to start anew–just in time for Amy's senior year. Her dad recently died in a car accident. So Amy embarks on a road trip to escape from it all, driving cross-country from the home she's always known toward her new life. Joining Amy on the road trip is Roger, the son of Amy's mother's old friend. Amy hasn't seen him in years, and she is less than thrilled to be driving across the country with a guy she barely knows. So she's surprised to find that she is developing a crush on him. At the same time, she's coming to terms with her father's death and how to put her own life back together after the accident. Told in traditional narrative as well as scraps from the road–diner napkins, motel receipts, postcards–this is the story of one girl's journey to find herself.
Review: This book has been on my list to read for a long time, and I've even owned a copy for awhile. When I was getting ready for vacation, I knew I had to bring this one along since it follows two teens traveling cross-country. Perfect for some time away from home! The book only took me about two days to finish, mostly read on the beach, and it was a wonderful experience. I will certainly be reading more by Matson!
Amy is going through a crisis of identity. She has recently lost her father, who she had a close relationship with, and now she's forced to travel across the U.S. with a guy she barely remembers…only to reach an uncommunicative mother on the other side. Amy has a twin brother as well, but he's currently away from the family and anyway, him and Amy haven't really talked in years. For all intents and purposes, Amy is alone. Until she meets Roger and they decide to take a detour on their way to Connecticut.
Throughout the book, Amy and Roger decide to visit different places for personal reasons; memories of her father lead Amy, while an ex-girlfriend possesses Roger's own actions.
Honestly, there wasn't much about this novel that I didn't like. It's a regular narrative, but also includes playlists, receipts, notes, and more, which was a lovely touch and really made me feel like I was traveling with the duo. I will say that Amy was a bit slow sometimes. There were moments where she couldn't perceive what was going to happen. These are small instances, and they mostly just show that Amy isn't the best at reading people…until she begins to understand Roger more and more.
I loved that the book included flashbacks in Amy's life, as it brings her father to life for the readers, as well as her past relationship with a college guy. It explains Amy as a character since she's not very forthcoming for awhile. Roger is much more open and I loved how he tried his best to help Amy, even when she tried to push him away.
Definitely a lovely book that has a nice mix of light and heavy moments. I personally thought it was exciting when they visited Kentucky, as that's where I live!
Music Pick!
Anyway, now I wanted to share a song I thought would fit this book. The novel is full of playlists but I chose a song that's not mentioned.
"Say Goodnight, Not Goodbye" by Chantal Kreviazuk
I think this song fits the book because Roger doesn't tell people goodbye, and I think it could also represent Amy and her father.
"Don't you fear, when you dream
Waking up is never what it seem
Like a jewel buried deep
Like a promise meant to keep
You are everything you ought to be
So just let your heart reach out to me
I'll be right, by your side
Say goodnight, not goodbye"
Read more: Chantal Kreviazuk – Say Goodnight, Not Goodbye Lyrics | MetroLyrics