I'm linking up with Anne from In Residence, and Kristen/Gretch for What's New With You.
Showering: This Saturday, I'm going to a baby shower for two of my old Girl Scout friends. On April 28, I'll be throwing my own baby shower for another friend of mine who is having a little girl. It's going to have a book theme and I've been having a blast making plans! Don't worry, I'll share all about it this May!
Cultivating: Well, I had to look up the definition for this one to get an idea of what to put, and since it says one definition is to develop a skill, I have the perfect answer! I have dance classes every Friday (minus last Friday since it was Good Friday and the studio was closed) and I've been working on the dances for our recital this June. I'm in tap and hip hop, so two different dances to learn. It's been fun though!
Expecting: I'd like to say warmer weather, but I feel like it's going to be raining a lot this week so honestly, I'm kind of stumped on this one! Hopefully I can be expecting a really fun, adventure filled April!
April 2018 Currently: Nina Nesbitt, X Ambassadors, and Love, Simon! #currently #ontheblog
Click To Tweet
Making: Concert plans! I'm attending two different concerts this month and I'm really excited. First up will be Nina Nesbitt, who is a British artist so it's awesome that she's even coming to my city! I'm going with a friend of mine who also really loves Nina. Then, I'll be seeing X Ambassadors for the fourth time (they are amazing live!) with my sister.
Buying: It should be no surprise by now how much I love the book Simon Vs. the Homo Sapiens Agenda and the new movie based on the book Love, Simon. Therefore, I have been buying Simon related goodies!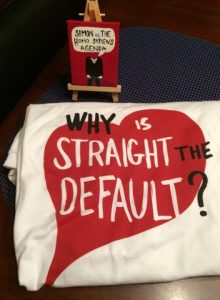 That fantastic easel drawing of the Simon Vs. book cover is from Marie (her Twitter) and I'm just…in awe! How do you get that wonderful detail on such a tiny canvas? This is going on my bookcase!
As for the t-shirt, whether you've read the book or just seen the movie, then you know one of the things mentioned is how straight shouldn't be the default. We shouldn't just assume someone is straight until they us otherwise. These shirts are being sold on Omaze for $27 – you can still get one here – and every shirt sold benefits GLSEN so it's an amazing cause. GLSEN stands for Gay, Straight, Lesbian Education Network. Isn't it fantastic though? I can't wait to start rocking this shirt when the weather warms up!
***
Feel free to answer any of these in the comments, or link up your own Currently/Monthly Recap post!