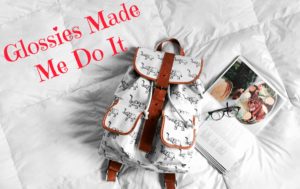 Welcome to the April 2018 edition of Glossies Made Me Do It, with myself and Ashley of Happy.Pretty.Sweet. Did a magazine make you do something recently? Add an item to your wish list, make you try a recipe, just left you thinking? Write about it and link up with us!
This month, Oprah is making me add books to my wish list – and think about important topics! So let's get started:
The main theme of this month's issue is "What Would You Stand Up For?" and I thought I'd share my thoughts. There are a lot of issues that I believe in and that I'm passionate about. However, one of the biggest ones that I will stand up for is equal rights for those that identify as LGBT+. This means marriage equality, equal rights at work, the ability to have and/or adopt children, and so much more. Yes, I do identify as LGBT+ but even before I realized that, I still believed in this "issue" and I put that in quotes because it should not, in my mind, be an issue.
So tell me – what would you stand up for?
Glossies (and Oprah) Made Me Do It: Two books on my TBR + I Stand Up For...? #bookbloggers #ontheblog
Click To Tweet
Next, if you know anything about Oprah, then you know that she loves books and one of my favorite sections in her magazine each month is the Reading Room.
Due to the April 2018 issue, I now have two more books added to my TBR list on Goodreads (add me?) and they both sound fantastic.
Quiet Girl in a Noisy World: An Introvert's Story by Debbie Tung (Goodreads)
The Merry Spinster: Tales of Everyday Horror by Mallory Ortberg (Goodreads)
I don't want to overload the post with a long summary of each book, so there is a link that leads you straight to Goodreads to learn more about each book.
Do either of these sound interesting to you?
***
Now, it's time for YOU to share what Glossies Have Made You Do!