Sorry for the distinct lack of posts lately, but I was in a friend's wedding yesterday so there was a lot happening leading up to that: nails, rehearsal, hair/makeup, wedding, reception. I also go back to class tomorrow and unfortunately, I have classes every day this semester from the morning to the afternoon, but I will do my best to keep up with the blog when I do have time to get online and post.
But for now…
Are You Ready for Some Football?!
To be honest, I'm not really a football person but the rest of my family (parents, sister, brother) all love it, so I figured I'd do the next suggestion for a gift guide in honor of them and for the rest of you out there who are or know people that are football fans. I live by Cincinnati, Ohio so the family are big Bengals fans, so certain items will be shown for the Bengals but that doesn't mean your team isn't available.
Cincinnati Bengals Logo Sandwich and Waffle Grill – I know my brother would love this and it would be perfect for my sister whenever she moves into her own apartment. Some teams even have Toasters that print toast with your team's logo on this site, so look for that as well!
Buy it at Football Fanatics for $39.99
From the site:
Lock-down lid for even cooking
Stainless steel accent on lid
Non-stick, removable cooking plates
Indicator lights lets you know when grill is ready to use
Cord wraps underneath for easy storage
Plugs easily into a standard outlet
Cincinnati Bengals Garden Gnome – This unique little gift would be perfect for any football lover. Grab the gnome from their favorite team and voila, it's a year-round token of their fanaticism! Plus, how can you resist this little guy, even if you aren't a huge football lover (perhaps your significant is?)
From the site:
Plant this Cincinnati Bengals Team Gnome in your garden and let all your flowers become fans of your favorite team too! Perfect for the garden, patio, desk, shelf or doorway. While we make no guarantees, the gnome has been known to bring miraculous good fortunes to both their owners and the Cincinnati Bengals!
Each gnome is hand crafted and hand painted with raised and decal logos on the hat.
Gnome measures 11.5" tall
Officially licensed by NFL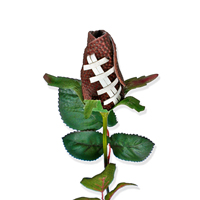 Football Rose-
You can get a single rose or a collection, and there are even baseball and softball roses for those of you out there that appreciate a different sport more. I think these roses would be great fun to recieve for all types of occasions, but especially for the men for Weddings or Valentine's Day when it's usually the ladies recieving the flowers. Oh, and for weddings, they sell
boutonnieres!
From the site: We carefully create each Football Rose petal by hand out of football leather to form an unforgettable bloom that lasts a lifetime. We add the finishing touch to the Football Rose by hand-stitching genuine leather laces on one side of the rose to give the rose an authentic football signature. The Football Rose will never die, just like the passion any football fan has for their favorite sport.
12 Hand-Dipped Football Berries-
Part of the fun of watching football, I've noticed, is doing so with other people…so these would be the perfect addition to a football gathering, especially if it's the Superbowl (prime football party time)!
From the site:
What food could be better for a football party than gourmet dipped strawberries decorated like footballs? Each sweet strawberry is hand dipped and decorated with white stitches simulating the gridiron pigskin.