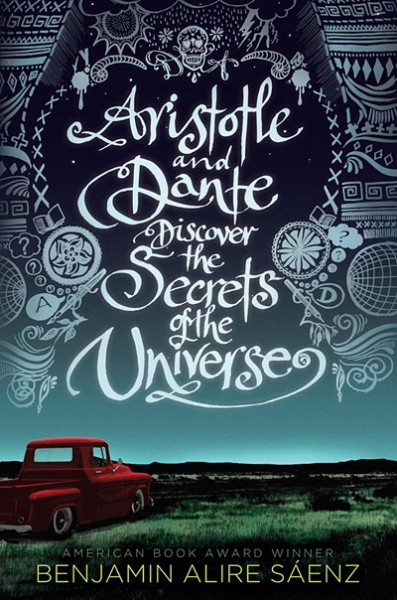 Aristotle and Dante Discover the Secrets of the Universe by Benjamin Alire Saenz


Review by Lauren


Source: copy from library; all opinions are my own


Official Summary: Aristotle is an angry teen with a brother in prison. Dante is a
know-it-all who has an unusual way of looking at the world. When the two
meet at the swimming pool, they seem to have nothing in common. But as
the loners start spending time together, they discover that they share a
special friendship—the kind that changes lives and lasts a lifetime.
And it is through this friendship that Ari and Dante will learn the most
important truths about themselves and the kind of people they want to
be.
Review: I was assigned this book for my YA literature class, and as I'd heard wonderful things about it, I was quite excited. After finishing this book, I knew it would be one that I would think on for awhile. It's a modern classic and something that more people should read. I got my copy from the library for my class, but I hope to buy my own copy to keep and re-read in the future.
The book starts in 1987, but it's essentially timeless. This book isn't really about the place or the time period. It's about these two teen boys who go through many of life's hardships but who always find their way back to each other. Dante comes into Ari's life when he sees him at the swimming pool and offers to teach him. From that moment on, they are almost inseparable, until Dante's dad gets a job in Chicago and they move away for a year.
Ari tries to live his old life, never telling other "friends" about Dante. I put friends in quotes because Dante was Ari's only true friend. Ari didn't mind being alone, but meeting Dante, he slowly learned to open up and explore the world with someone by his side. When Dante returns, things are a bit strained between the two. Dante has told Ari he likes to kiss boys, and while Ari knows Dante loves him, he's not sure how to handle his own feelings, let alone the ones that Dante is trying his best to hide.
Besides their friendship, the two boys deal with their own trials of growing up and becoming men. Dante has his sexuality to come to terms with and learn to handle. Ari has an older brother in prison who nobody talks about and it leaves Ari feeling a bit broken. Ari has an anger problem and isn't afraid to use violence to handle this, but thinking about his brother has him scared for his own future.
Overall, this was a wonderfully written book that seemed to perfectly capture the beauty and pain within growing up.