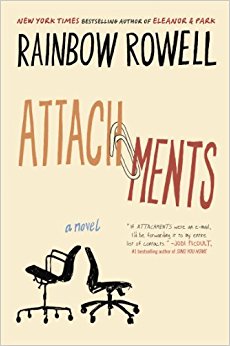 Attachments by Rainbow Rowell


Review by Lauren


Source: copy from library; all opinions are my own


Official Summary: Beth Fremont and Jennifer Scribner-Snyder know that somebody is
monitoring their work e-mail. (Everybody in the newsroom knows. It's
company policy.) But they can't quite bring themselves to take it
seriously. They go on sending each other endless and endlessly
hilarious e-mails, discussing every aspect of their personal lives.
Meanwhile,
Lincoln O'Neill can't believe this is his job now- reading other
people's e-mail. When he applied to be "internet security officer," he
pictured himself building firewalls and crushing hackers- not writing up
a report every time a sports reporter forwards a dirty joke.
When
Lincoln comes across Beth's and Jennifer's messages, he knows he
should turn them in. But he can't help being entertained-and
captivated-by their stories.
By the time Lincoln realizes he's falling for Beth, it's way too late to introduce himself.
What would he say . . . ?
Review: I've owned a copy of Rowell's YA novel, Eleanor and Park, for awhile now, but Attachments was the first book I've actually read by this author. Attachments has a premise that might not suit every reader. I know a friend of mine read this and thought it was a bit creepy that Lincoln read Beth and Jennifer's emails and then found himself falling for Beth through these notes before he ever meets her in real life. I get why some would find this difficult to believe or bit awkward, even creepy, but it worked for me. Throughout the book Lincoln constantly makes it known that he's aware of how strange this scenario is and that he should have sent a warning to the girls in the very beginning instead of continually reading their emails. He can't help it though; he's in a rut in his life and reading Beth and Jennifer's emails add a little lightness to his otherwise boring job.
The only point of views you get from Beth and Jennifer are through their emails, but it felt like enough. We get to know these ladies as Lincoln does and it's easy to see why he falls for Beth. She's funny, loves movies, has a boyfriend that doesn't treat her how he should, and she's a genuinely decent person and good friend.
The emails are spread throughout the book, in between Lincoln's everyday story, and I loved this. We get enough back and forth in the book so you aren't left with too much or too little from the girls. While Lincoln is falling for Beth, these emails also allow you to meet Jennifer, who is dealing with her own problems. It's great to see how her and Beth are there for each other, even if they aren't always completely supportive of each others' decisions.
Overall, I thought this was a really fun and sweet novel. It takes place in late 1999, early 2000, so Lincoln has to deal with the anxiety of Y2K as he works with computers. I thought that aspect was interesting. Plus, placing the story a little in the past makes it more natural for these girls to be emailing each other at work instead of using text. Attachments is a quick read and it would be perfect for a girls-only book club. I can't wait to read more by Rainbow Rowell.