I'm linking up with Anne at In Residence for Currently
Currently: August 2021
Welcome to August everyone! It's the first Wednesday of the month and that means it's time for the Currently link up, which I just love! Feel free to answer any of these prompts in the comments.
Admiring: everyone who has been able to get the vaccine – and actually got it! This new variant is picking up around where I live, and it definitely makes me nervous. I'm vaccinated, but I still don't want to test how it will affect me or anyone I know if we get it. Plus, I do know people that didn't get vaccinated, and I worry about them…even though they could (and should) have gotten it…Obviously, I don't mean kids who can't get it. I really worry about them because they have no choice in the matter! So if you were able to get vaccinated, and did, I applaud you!!
Anticipating: seeing X Ambassadors in concert. They are one of my absolute favorite bands and I've seen them live six times now. The seventh time will be in October, so *fingers crossed* nothing gets cancelled! They are phenomenal live; I definitely recommend seeing them if you're a fan and you're able to.
Enjoying: the fact that my blog has been around for 14 years this month! That's right, I started Shooting Stars Mag back in 2007. Thanks to Nicole for reminding me it was my Blogoversary month. HAH I've been a bit out of it lately. I'm still trying to think of a fun way to celebrate, so look out for that!
Spending: money on books! I just can't help it! I actually made a TikTok for my latest book haul, if you want to check that out. Feel free to follow me over there!
Saving: all the Christmas gift ideas. I've already bought a few things, but I've definitely been keeping an eye out when I'm reading blogs or magazines for future present ideas. It's somehow already August, so I know the holidays will be here even quicker and I don't want to wait until the last minute to buy all the gifts. If I start looking, and buying, now, then I can take advantage of more sales/deals. Anyone else already looking – or shopping?
***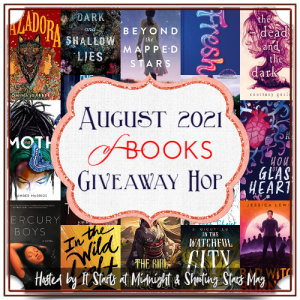 Don't forget to enter the August of Books giveaway! You can win your choice of book that comes out this month! And it's a giveaway hop – so more books/chances to win.