Risky Behavior by L.A. Witt and Cari Z.
Review by Lauren
Source: personal copy; all opinions are my own
Official Summary (add on Goodreads): It's day one of Darren Corliss's career as a detective, and not only has he been assigned a notoriously difficult partner, but the guy might also be a pill-popping dirty cop. Internal Affairs needs proof, and Darren gets to be their eyes and ears whether he wants to or not.
Detective Andreas Ruffner doesn't play by the rules, and he doesn't play well with others. With bodies piling up and a list of suspects who are way above his pay grade, the last thing he needs is a wet-behind-the-ears kid for a partner. Or babysitter. Not even if that partner is easy on the eyes.
As Darren gains Andreas's hard-won trust, they both realize there's more than just mutual suspicion simmering beneath the surface. But their investigation is heating up as quickly as their relationship, and Darren has no choice but to go along with Andreas's unorthodox—and borderline unethical—methods. As IA puts the squeeze on Darren to give up the man he's falling for, he has to wonder—is Andreas the only cop left in this town who isn't dirty?
Review: I'd seen this book around, but for whatever reason, I didn't request it when I saw it available for review on Netgalley. However, I purchased a copy not too long ago and decided to finally check it out and oh boy, I do recommend! I love m/m romances that also combine other genres – especially mysteries. That isn't to say I don't like straight up contemporary romances, because I do, but sometimes it's nice to have other things going on. This is one of those age-gap romances that I seem a bit addicted to lately. Darren Corliss is a young detective partnered with Andreas Ruffner whose partners never seem to stick around long. He has a bad reputation for being unagreeable – among other things. Darren isn't going to back down easy though, and it soon becomes clear that the two guys can trust if each other, if not anyone else in the police department.
People in the department think Andreas is a dirty copy, but Andreas is certain that a lot of other people are actually the dirty ones. He brings Darren in little by little as he starts to get to know and trust him. The two are attracted to each other – Darren is gay and Andreas is bisexual – but it takes a bit of time before they give into said attraction. The mystery definitely powers most of the book, but that's not a bad thing, unless you really want a lot of romance. However, there is a sequel that continues to follow Darren and Andreas – so you get more!
Dual Book Reviews: Risky Behavior and Suspicious Behavior #mmromance
Click To Tweet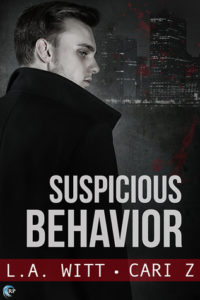 Suspicious Behavior by L.A. Witt and Cari Z.
Review by Lauren
Source: copy from Netgalley; all opinions are my own
Official Summary (add on Goodreads): Detective Darren Corliss is hanging by a thread. In between recovering from a near-fatal wound and returning to work at a hostile precinct, he's struggling to help care for his ailing brother. His partner and boyfriend, Detective Andreas Ruffner, wants to help, but doesn't know how. And with his own family crises brewing, Andreas is spread almost as thin as Darren.
For cops, though, life takes a backseat to the job. When a stack of unsolved homicides drops into their laps, Andreas and Darren think they're unrelated cold cases. But when a connection surfaces, they find themselves on the tail of a prolific serial killer who's about to strike again.
Except they've got nothing. No leads. No suspects. Just a pile of circumstantial evidence and a whole lot of hunches. Time is running out to stop the next murder—and to pull themselves back from their breaking points. 
Review: After the case in Risky Behavior, Darren and Andreas are due for some down time, but that doesn't happen when they realize that some unsolved murders over the years might actually be the work of a serial killer. It's early on that they think they have their man, but they can't do anything without evidence, so much of the book is figuring out how to prove who the killer is before they kill again. It's a high stakes operation, once again, and it definitely lends itself to some fast reading. I love the mystery and suspense in these! I also like the added side stories, especially concerning the detectives' families. Readers are introduced to Darren's brother in the first book but his condition – early onset Alzheimer's disease – is getting worse and it wears on Darren. As for Andreas, readers finally get to know more about his exes and children, causing some "aww" moments for Darren, who gets to see a different side to Andreas when dealing with his kids, especially his youngest who is only four.
These are some great books! I'd read L.A. Witt before and loved her work, but never anything from Cari Z. so it was cool to see their collaboration. It's not often m/m books have direct sequels – following the same characters – so I do recommend this series for that alone. I can't wait for the third book – due out January 1, 2018.